Sikkim is the second smallest state in India, and is wedged between Tibet, Nepal, Bhutan, and West Bengal, but encompasses an astounding range of pristine natural beauty of the Himalayas. A traveller's guide to Sikkim explores the stunning beauty of this Himalayas hill town. The Sikkimese call their land 'Ney Mayal Lyang' that translates to 'heaven.'
Sikkim is located in the north eastern part of India, but is not a part of the Seven Sister states. The state is famous for dazzling waterfalls, virgin forests, Tibetan style Buddhist Gompas, alpine meadows, rhododendron flowers and more. Kanchenjunga (also Kanchendzonga) at 8598 m is the third highest peak in the world, and lies in Sikkim.
More than 60 percent of the former Himalayan Kingdom of Sikkim is mountainous, and there are sizeable numbers of 6000 m peaks on the eastern and western borders of the state. Sikkim has an impressive literacy rate of more than 70 percent. It was merged with India in 1975, and is a prosperous state today.
Weather in most parts of Sikkim is pleasant throughout the year (except in higher altitudes), and that makes it a favourite of holidaymakers from the Indian plains in the summer months. Bengalis throng the tourist towns of Sikkim during their holiday season of Durga Puja in October-November. The state abounds in a variety of flora and fauna, and lucky ones may also sight the endangered red panda.
Attraction :1  Pelling
Pelling lies in West Sikkim, perched at an altitude of 2100 m and is approximately 120 km away from Gangtok. At first glance Pelling looks like a cluster of concrete hotels, but there are unparalleled views of the snowy peaks. Sunrise over the Kanchenjunga is Pelling's biggest charm. With plenty of budget accommodation options, it also makes for a great base to explore other parts of West Sikkim.
Chief sights in and around Pelling are Pemangyatse Monastery, built more than 300 years ago, which is beautifully located amid green gardens; a huge Buddha statue and statues of reincarnations of Padmasambhava; and Pemangyatse Monastery, famous for the Chaam dances (masked dances) held in February/March.
Interestingly, the ruins of Sikkim's ancient capital at Rabdentse, is located at a short distance from Pelling. Rabdentse is a lovely spot accessed by a short walk through a dense forest. The views are spectacular after the walk that arrives at the ruins which are located on top of a ridge with clouds on the other side. The ruins are maintained by ASI these days.
Also, the second oldest monastery in Sikkim, SangaCholing Monastery, is a bit farther away than Pemangyatse. The steep trail will take no more than one hour from Pelling and is a great delight. Views from top of the monastery are astounding and great for photography enthusiasts.
Attraction :2  Yuksom
The historic little town of Yuksom was the first capital of Sikkim when three Lamas converged from different directions and crowned the first Chogyal (King) in 1641. There is still a stone throne that marks the coronation spot, and is known as Norbugang Chorten, the site is called Norbugang Park. Yuksom has the charming feel of a hamlet; it is lower in altitude than Pelling and is situated in a valley.
If you are coming to Yuksom (Also Yuksam) from Pelling, then a short detour will bring you to Rimbi Waterfalls which is quite a sight in the monsoon. Just 9 km before Yuksom, you will cross the Kanchenjunga Waterfall, which is a majestic waterfall falling from a great height.
There is a small pond known by the name of Kathok Lake in Yuksom, a short walk will bring you to a ridge where once stood a palace of the King of Sikkim. There are also two new colourful Gompas above Yuksom, but the most beautiful monastery is the 1701 built Dubdi Monastery. The path to Dubdi Monastery is lined with prayer flags and is located amid lush greenery.
There are no views of the mountains as such from Yuksom, yet it is this place you may remember long after your Sikkim holiday is over. There are quite a number of hotels and homestays in Yuksom. Yuksom's chief claim to fame is that it is the starting point for the treks to Dzongri and Goecha La (4940 m), for splendid views of the Kanchenjunga.
Attraction :3  Tashiding
If coming from Yuksom, you will come across one of Sikkim's prettiest falls. The Phamrong waterfalls are around halfway on the Yuksom-Tashiding route. Tashiding is a small town located high above the confluence of the Rangeet and Rathong rivers.
Tashiding Gompa is the most sacred monastery in Sikkim, the mere sight of Thongwa Rangdol Chorten – a chorten inside the complex, is said to cleanse every one of their sins. The monastery is said to have been built in 1641 and is set in an idyllic location surrounded by many ancient looking white chortens. Tall prayer flags in white (called Darchor) line up the staircase path to Tashiding Monastery, while the views from the Gompa are superb. Intricately carved mani stones with the Buddhist mantra, Om Mani Padme Hum are piled up on one another to form a mani wall near the monastery complex.
Particularly interesting ceremony at Tashiding Gompa is the yearly held Bhumchu festival. It is celebrated in February/March, when bhumpa, a copper vessel, is opened by the monks that contains holy water. It is a sacred ritual that reveals Sikkim's fate for the upcoming year. The level of water determines the decision of the monks.
Although not many people like to walk to a place which is accessible by road, there is a trail from Yuksom to Tashiding that crosses 2 ancient monasteries perched on high ridges with stunning views. There are a few homestays, guest houses, and one hotel serving travellers in Tashiding.
Attraction :4  Khecheopalri Lake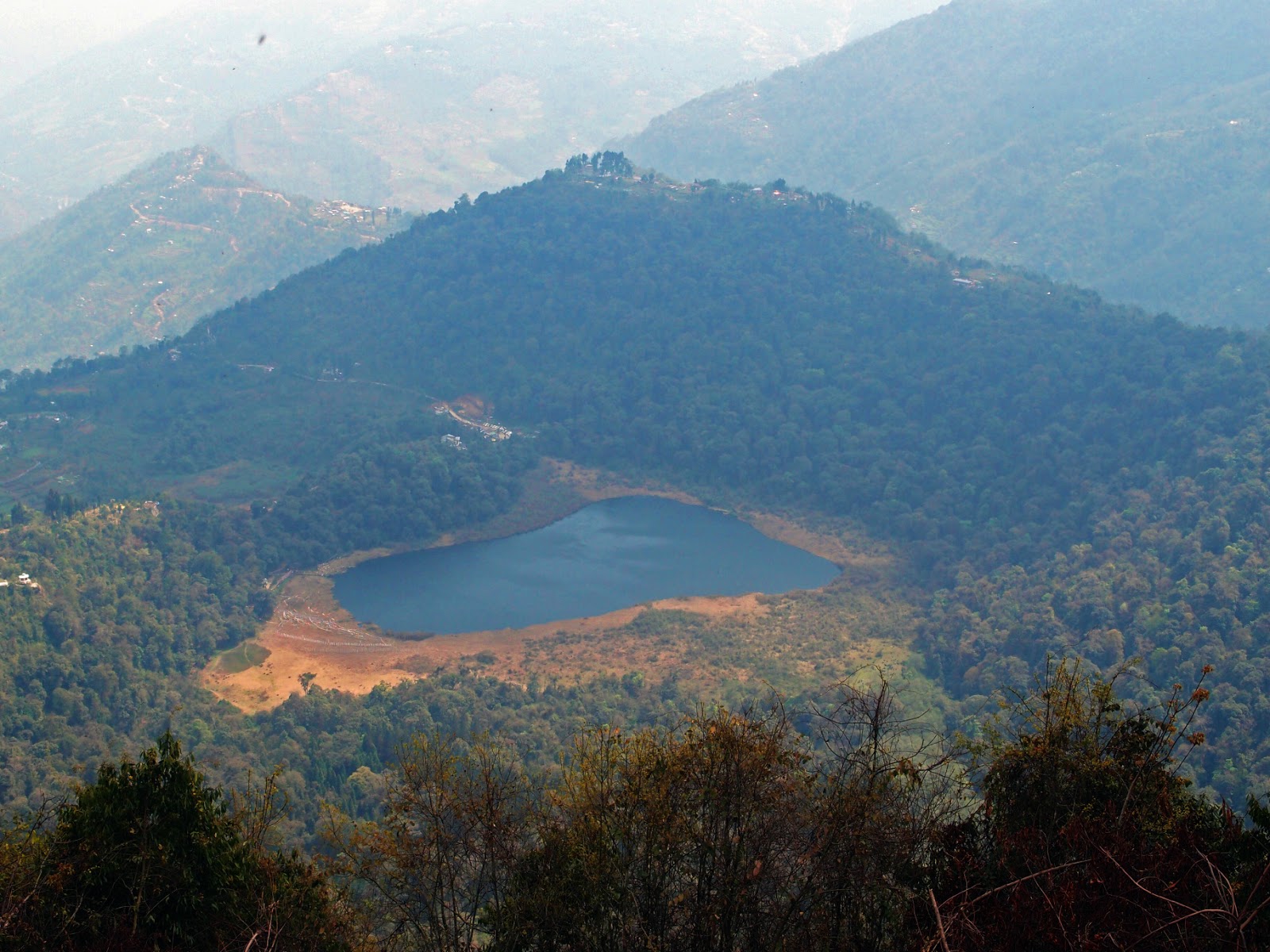 Accessed by taking a small detour on the Pelling-Yuksom road, Khecheopalri Lake is considered to be sacred by the Buddhists and Lepchas. It lies in a small shallow valley and is surrounded by dense green forests. Khecheopalri Lake literally translates to 'wishing lake.' A local legend has it that if a leaf drops onto the lake's surface, a bird picks it up and keeps the lake clean, thereby maintaining the purity of the water. Although it does sound far-fetched, water of the lake is surprisingly clear even though there are many trees around it.
It's a wonderful setting to enjoy some tea or coffee at the small café near the lake. The Khecheopalri Gompa is situated 2 km from the lake, and has excellent views of Mt. Pandim (a 6000 m peak). There are also several sacred caves in the hills that were used for meditation in earlier times. A short walk will bring you to a small village near Khecheopalri Lake that has options of a few charming home-stays.
This area is supposed to be a paradise for nature lovers, and bird watching enthusiasts. It is also possible to walk to Khecheopalri Lake from Pelling, the path is pretty and passes through lovely forests. (Takes around 6-7 hours – ask the locals for directions)
Khecheopalri Lake is at its festive best at the time of the annual festival that is held in March/April.
Attraction :5  Rumtek Monastery
Undoubtedly, this is Sikkim's most famous monastery, and every visitor to Sikkim is likely to visit the Rumtek Monastery, even in a 3-4 day trip to Sikkim. Rumtek Village is 24 km away from Gangtok (Sikkim's capital), and the monastery is the headquarters of the Black Hat Sect (one of the oldest sects of Tibetan Buddhism).
There are two buildings of Rumtek Monastery, one is relatively newer (built in 1966), and the older Rumtek Monastery was founded in 1740 by the fourth Chogyal of Sikkim. A path leads to a shrine called Golden Stupa, it is a chorten made of silver and gold, and studded with precious stones such as turquoise, amber and coral. It is recommended to attend the morning prayers at Rumtek Monastery.
The Old Rumtek Monastery is around 2 kms away from the newer one, and the path is surrounded by white prayer flags. The exterior of the monastery is in a light shade of blue, and is built in traditional Sikkimese alpine style, with latticed wooden windows.
Presence of armed personnel comes as a rude shock in the heavily guarded complex; there have been disputes over the future Rinpoche of this monastery resulting in a tense situation. There is a wide range of accommodation available in Rumtek; from home-stays, hotels, guesthouses to boutique stays.
Attraction :6  Ravangala 
Pronounced Rabongla, Ravangala is a picturesque town in West Sikkim located on a ridge between Maenam Hill and Tendong, with a useful market. There are glorious views of Mount Narsing on the offering from Ravangala, and also dazzling landscapes with snow capped peaks. Plentiful accommodation options are available in Ravangala.
Important places in and near Ravangala are Mane Choekhorling Gompa; Buddha Park (Sakyamuni Complex) with a huge statue of Buddha in a lovely garden; a local carpet centre in the Tibetan refugee camp to buy reasonably priced fine carpets; and Ralang Monastery, which houses around 200 monks is a lookalike of the more famous Rumtek Gompa. Nearby is the Old Ralang Gompa, established in 1768.
Another offbeat site is just 5 km away from Ravangala, the Yangdrung Kundrakling, which is the only Bon Monastery in Sikkim. It is significant to know that Bon faith is believed to be older than Buddhism. The statues in this Bon monastery are different than in other monasteries of Sikkim.
Ravangla hosts the annual three-day Pang Lhabsol festival in August, which worships Kanchenjunga and draws thousands of Sikkimese to enjoy traditional sports. Chaam dance is also held, the festival of masked dances unique to this place, performed not by monks, but by locals.
Attraction :7  Tsomgo Lake
Pronounced Changu, this scenic lake is perched at 3750 m above sea level and lies 40 km away from Gangtok on the way to Nathu La. The drive to Tsomgo Lake is spectacular, and the lake itself is a pristine water body surrounded by wildflowers for most of the year. A particularly mentionable tourist attraction is that visitors can go for yak rides near the periphery of the lake. Tsomgo Lake freezes in the cold winters, but can still be accessed if the road is open.
A visit to the lake requires a special permit from the Tourism Office in Gangtok. The permit can be arranged by a travel agent for a small fee, and there are lots of taxis and shared taxis available for a visit to Tsomgo Lake. There are a few dhabas near Tsomgo Lake serving maggi and other fast food, and also shops that sell woollens.
The best views of the lake are after climbing up a nearby hilltop from where the entire lake is visible.
Attraction :8  Nathu La
The road climbs around 18 km higher from the spectacular road that continues from Tsomgo Lake to the nearly 4200 m Nathu La (La is pass in Tibetan). It is always windy and cold at this altitude. There is a sizeable army presence due to the Chinese border on the other side of the pass. It is advised to not spend more than 30 minutes – 1 hour at the top of the pass to avoid the risk of Acute Mountain Sickness (AMS). A visit to the Nathu La pass is out of bounds for foreigners.
You could then heads towards North Sikkim, which is perhaps the prettiest region in all of Sikkim. North Sikkim is higher in altitude than other regions, and is an area of unspoilt natural beauty, framed by snow-capped Himalayan peaks. A permit is required to visit North Sikkim. Although it is widely believed that a package tour is necessary to explore North Sikkim, in reality it is not so. A unique social system called Dzumsa prevails in North Sikkim, and Pipon (a village headman) is an influential person.
Attraction :9  Lachen
Lachen is a traditional mountain village that looks very alpine like. As compared to Lachung, accommodation options are fewer and basic. There is a small monastery, by the name of Nyudrup Choeling Gompa, which is accessible by a short walk. The cosier accommodation options are all quite costly.
Lachen is located on the banks of Lachen Chu, which merges with Lachung Chu at Chungthang to form the Teesta River. The main purpose of tourists staying at Lachen is to continue forward to Gurudongmar Lake at 5140 m. At 2700 m, Lachen is a good base to acclimatise and continue farther to Thangu, which lies halfway on the road to Gurudongmar Lake.
Lachen receives plenty of snowfall in the winters, and is in a blanket of white come December. There are drinking dens in Lachen where locals drink Tongba and local dishes are available. Lachen is the starting point for the trek to Green Lake. Another interesting place for a walk is Chopta Valley that is accessible from the road near Thangu.
Foreigners are not allowed to go to Gurudongmar Lake and are only allowed as far as Thangu village.
Attraction :10  Lachung
Lachung is a pretty village on the banks of Lachung Chu (river). It is beautifully located at 2600 m above sea level and is the gateway to go to Yumthang and the last permissible place known as Zero Point (Yumesamdong – 4600m). Arriving in Lachung is a pleasant experience, the Chungthang – Lachung road is littered with waterfalls.
Lachung has a small but picturesque two storey monastery, Lachung Gompa built in 1880. The border of Tibet is only 15 kms away and trade continued till 1959. The weather is quite cold throughout the year in Lachung, and it usually snows as the winter sets in. Many accommodation options are available in Lachung and this is a bigger town then Lachen, which lies on the other side of Chungthang.
It is an apt place to sample local Sikkimese food in pure environs, and wash it down with some Chaang or Tongba. Momos are a local favourite, and are accompanied with fiery red chutney.
An alternative place to visit (if you can manage the permit) is Mt. Katao at 4400 m, a summit that is usually full of snow.
Attraction :11  Yumthang Valley
The drive from Lachung to Yumthang ascends 1,000 m in just 25 km, passing through the Singba Rhododendron Reserve, which is a riot of colours in spring. There are also hot natural sulphur springs at Yumthang in a small complex that lies on the other side of the road after crossing the river on a small bridge.
Yumthang Valley is also sometimes referred to as the 'Valley of flowers' due to the scenic beauty and blooming flowers of various colours. The mountains as we move farther on the road to Yumesamdong are smooth rock faces that resemble the dolomites of Italy. Yaks and sheep graze with an occasional wooden hut for sighting, the landscapes are quite grand.
A cluster of shops and dhabas collectively comprise Yumthang, and there is a solitary accommodation option in the valley. Horses graze in the wild near the river and the landscape is dotted with an occasional whitewashed chorten. Tall peaks rise on the right side of the road. Yumthang Valley is incredibly beautiful with lush green sights, and is a peaceful place.
With necessary permits, one can go as far as Yumesamdong (Zero point) that literally feels like the end of the world at approx. 4600m. Howling winds blow and it is indeed very cold at this altitude; there are a few shops selling momos, tea, and alcohol to cope with the cold.
Attraction :12  Gurudongmar Lake
Just after crossing Thangu, all signs of civilisation disappear as the road climbs to the spectacular Tibetan plateau. Near the army check post is one of the highest cafés in the world, it is run by the army, and is located at around 15000 ft (4500 m). This point is well above the tree line, and there is no vegetation. The landscape is plain and smooth, and it is hard to believe you are more than 4700 m above sea level.It is a snowy desert, brown terrain speckled with smooth snowy peaks. After covering 30 odd km from Thangu, the road makes one final ascent to reach Gurudongmar Lake. Rapidly fluttering prayer flags welcome the visitor, and the fine sight of the turquoise green waters of the lake can be considered divine. It is a jewel amid crested peaks. There is a 'Sarva Dharma Sthal' near the lake, a place for people from all religions to come and pray.
There is a legend about formation of Gurudongmar Lake, considered to be blessed by Guru Rinpoche while others say it is blessed by Guru Nanak. The water of the lake is regarded as sacred, and it is believed that a small part of the lake doesn't freeze even in the winter. Visitors are advised to reach Gurudongmar Lake early and start the return journey around noon as the wind really picks up after that. At 5140 m (17000 ft), it is one of the highest lakes in India (and the world), and the high altitude means no strenuous physical activity should be undertaken at the lake. Beware of AMS.
In the serene surroundings, red prayer flags flutter against the backdrop of the pristine green blue waters of the lake, while white peaks stand proud against spotless azure blue skies. The waters of Gurudongmar Lake are also the source of the River Teesta.
Attraction :13  Namchi & Samdruptse
Namchi is pleasantly situated at 1700 m above sea level, and is the administrative centre for South Sikkim. It lies 79 km southeast of Gangtok, and is rapidly becoming a magnet for domestic tourists due to the extraordinary statues that are around it.
Namchi is worth a visit for seeing the huge statue of Guru Padmasambhava (138 ft or 41 m high) that is located on Samdruptse Hill, about 8 km away from Namchi. Directly facing it is a 32 m high Lord Shiva Statue that is part of the temple complex known as Chaar Dham. It is rapidly developing into a tourist spot, as the weather is invigorating and it is a perfect place for spending an entire day for visiting tourists.
There are pretty flowers near the statues and also a lookalike building of Shirdi Sai Baba Temple which is painted in bright yellow and white. Namchi is a big town and has lots of accommodation options. The govt. also has recently inaugurated a cable car style ropeway to make it even more convenient for tourists to explore various places.
Another point of interest is Ngadak Gompa, some 5-6 km from Namchi, it is a ruined and neglected old dzong (dzong means monastery), which dates back to 1717.
Courtesy : Times Travel