Radhanagar Beach
Cellular Jail
Ross Island
Elephant Beach
North Bay Island
Night Kayaking in Andaman
Scuba Diving in Andamans: Best Time, Dive Sites, Cost
Bharatpur Beach
Kalapathar Beach
Neil Island
Laxmanpur Beach 1
Laxmanpur Beach 2
Snorkeling in Andaman
Chidiya Tapu
Sitapur Beach
Mount Harriet National Park
Water Sports in Andamans
Corbyn's Cove Beach
Baratang Island
Viper Island
Wandoor Beach
Jolly Buoy Island
Howrah Bridge, Andaman
Vijaynagar Beach
Rajiv Gandhi Water Sports Complex
Mahatma Gandhi Marine National Park
Anthropological Museum Port Blair
Samudrika Naval Marine Museum
Chatham Saw Mill
Cinque Island
Little Andaman
Barren Island
Shopping in Andaman
Sandbar Beach
Diglipur
Sea Walking in Andaman
Glass Bottom Dolphin Boat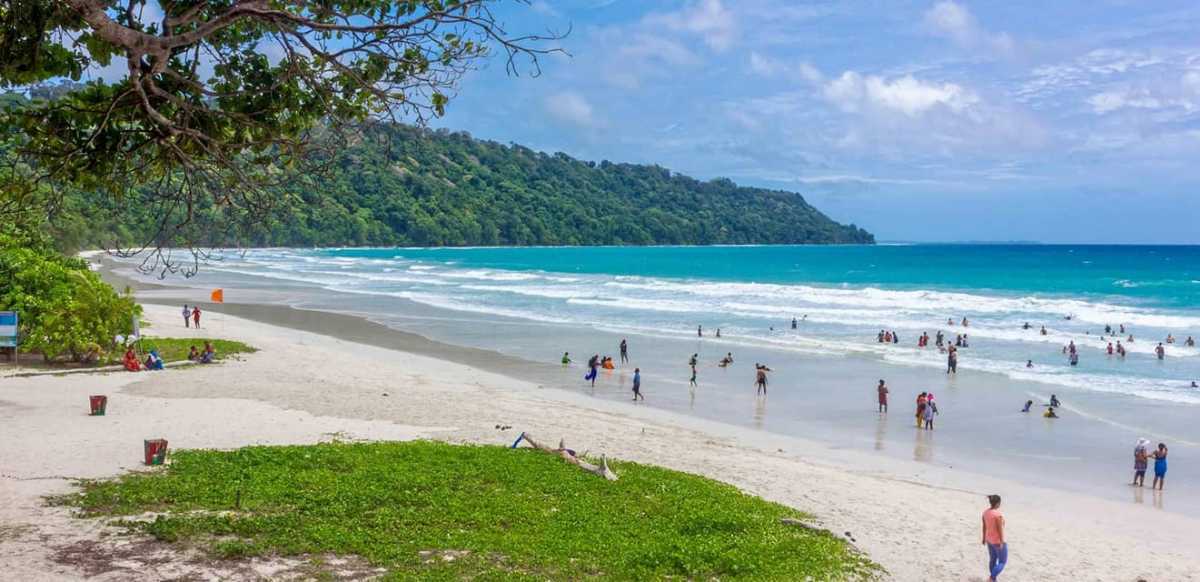 Radhanagar Beach, Andaman & Nicobar Islands Overview
Awarded with the title of 'Asia's Best Beach' by the TIMES magazine in 2004, Radhanagar Beach in Havelock Island with its turquoise blue waters and powdery white sands lives up to the moniker. Its vast shores of endless white grains stretch across 2 kilometres, making it a prime attraction of the Andaman and Nicobar Islands.
Food stalls and vendors can be seen on the fringes of the shore, keeping travellers refreshed with the provision of fresh and delicious seafood as well as beverages. You can also book beach beds, parasols, and umbrellas while they spend hours merely lounging at this exquisite wonderland. Radhanagar Beach Andaman is just adjacent to Elephant beach, so you may find mahouts taking out their elephants for a joyride to the tourists. The beach is also secure with patrolling lifeguards ready for rescue.
Must Know Before You Visit Radhanagar Beach
How To Reach Radhanagar Beach : Reach Port Blair by landing at Veer Savarkar International airport and then make way to the Havelock Island Jetty.  Radha Nagar beach is 10 km from Havelock jetty. The time taken will depend on the mode of transportation chosen. 
Hire an Auto-rickshaw – three-wheelers flock near the jetty and can take you to Radhanagar beach within 15 minutes
Cost: Auto rickshaw charges vary. Don't forget to bargain.
Two-wheelers available at the jetty – This is the best option for the bachelors or small families as it is very economical.
Cost – INR 500 per day (excluding fuel).
Hired cabs – This is the most popular way to reach the beach from the jetty as it is comfortable. It takes around 18 minutes to reach when there is less traffic.
Cost – A hired AC – INR 1500 per day and INR 1200 for a non AC cab. This cost is for a round trip. It is suggested not to book online as it comes out to be very costly
Shared jeeps for a round trip from the jetty to Radhanagar beach. One can find a bunch easily available outside the jetty. These are faster than local buses too!
Cost – INR 50 per person for a round trip.
Local buses – starting from the jetty, one can either opt for a government-owned AC bus or a non-AC bus. 
Timings
The first bus from the jetty starts at 6:20 AM and reaches its destination around 7:15 AM. After this, every hour a bus leaves for Radha Nagar beach. The last bus departs at 5:15 PM
Cost
Government AC buses -INR 45 per head
Government non-AC bus – INR 30 per head
Helicopter service – pre-booking required from a travel agency. The point of embarking is shared by the travel guide.
Luxury catamaran – Depends hugely on the weather and availability. Pre Booking is highly suggested.
Cost – Helicopter services and luxury catamarans are the most expensive of the available commute options. Cost can vary across different service providers.
Sometimes an advance booking for a trip to Radha Nagar can be really costly. The better option is to reach the destination and bargain to suit your convenience and budget.
Things to Note :
Always carry an umbrella
Carry a map and torch if you opt for rented scooters.
Disembark from the beach before it gets dark as the street lighting is not proper on the way.
Children should not swim beyond the 10-metre radius
Always stay within the set limits of water – radius of 50 metres on both sides
A few small vendors and local cafes do not accept credit cards. Carry some cash with you
There is no lighting on the beach. Pack your own light as it can get dark suddenly at any point
Must Try : Seafood Vendors and beverage stalls dotting the coastline are a must-try. The freshwater fish is tender and seasoned to perfection. These simple treats are local delicacies that are worth giving a shot.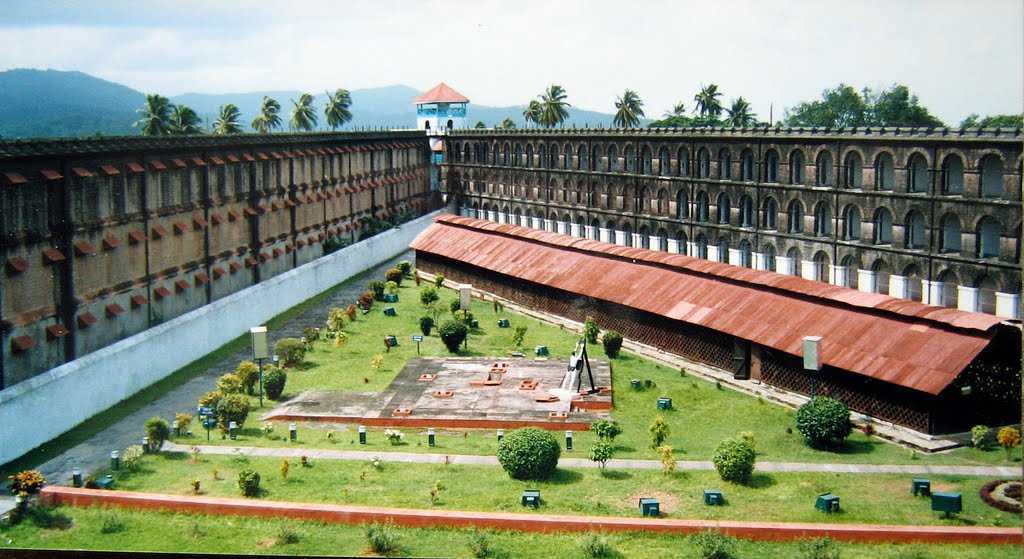 Cellular Jail, Andaman & Nicobar Islands Overview
The Cellular Jail, also known as 'Kala Pani' is an old colonial prison situated in Port Blair, the capital of Andaman and Nicobar islands. Constructed by the Britishers during their colonial rule in India, the jail was used particularly to exile Indian political prisoners. It was used to house many notable freedom fighters such as Batukeshwar Dutt, Yogendra Shukla and Vinayak Damodar Savarkar.
The jail complex is now owned by the Government of India and it is recognised as the national memorial monument that showcases the life of prisoners during the British era. Cellular Jail stands as a prominent tourist attraction in the Andaman and Nicobar Islands where visitors can learn about its history and also enjoy a light show held in memory of all the prisoners who were imprisoned here.
Today, the Cellular Jail is a solemn reminder of all the struggles the Indian freedom fighters undertook while fighting for independence, and is an integral part of India's history.
Timings : National Memorial: 9:00 AM – 1:00 PM, 2:00 PM – 5:00 PM (Closed on Mondays)
Entry Fee :
Entry Ticket: INR 30
Camera: INR 200
Video Camera: INR 1000
Film shooting per day with prior permission: INR 10,000
How To Reach Cellular Jail : The cellular Jail is located within the city of Port Blair. The best way to reach the jail complex is by hiring your own private cab as the public transport in Andaman isn't well developed. Else, you can also take an auto-rickshaw to reach your destination.
Light and Sound Show :
When: every Tuesdays, Thursdays, Saturdays and Sundays
Hindi Show Timings : 6:00 PM and 7:15 PM,
English Show Timings: 7:15 PM 
Price per head: INR 50
Also known as : Kala Pani
Constructed and Completed on : The construction of the jail began in the year 1896 and was completed in 1906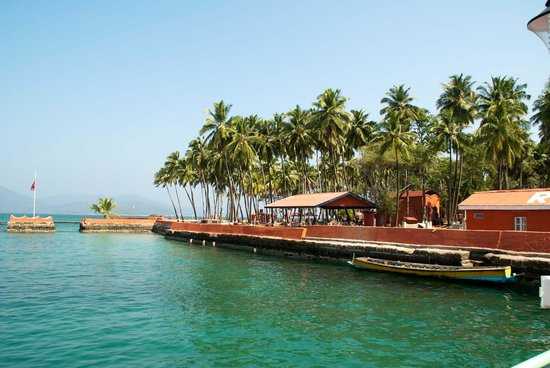 Ross Island, Andaman & Nicobar Islands Overview
Located just 2 kilometres east of Port Blair is Ross Island (now known as Netaji Subhash Bose Island); an island which was once the administrative headquarters of the British, but today is only an uninhabited island. Following an earthquake that hit Ross Island in the year 1941, the British left the island and shifted their settlement to Port Blair.
At first sight of the island, it is tough to believe that this abandoned place was once the seat of British power and housed everything from a bazaar, a church, stores, bakery, a water treatment plant, tennis court, printing press, secretariat, hospital, cemetery and other vital institutions.
Today, everything has disappeared except a few buildings, which housed some of these landmarks. The Indian Navy has managed to rebuild some old buildings, such as the local stores and the bakery, to provide the visitors with a feel of the bygone era. Souvenirs can also be purchased from these shops.
Timings : 8:00 AM – 6:00 PM
Time Required : 1 day, usually clubbed with North Bay Island full-day tour.
Also Known as : Netaji Subhash Chandra Bose Island
Named after : Captain Daniel Ross, a British marine surveyor
District : South Andaman District, Port Blair
Must Know Before You Visit Ross Island
How To Reach Ross Island : To get to Ross Island, you will have to take a ferry from the Water Sports Complex or Aberdeen Jetty. The trip to the island from there is a fifteen-minute ride.
Cost of Boat: INR 150- INR 500 based on seat and size. (get the return ticket as well as there is no stay at the island)
Time Taken: Less than 15 mins
Booking: Directorate of Shipping Services office 
Requirements: Passport of non-Indians and ID proof for Indians
Tips For Visiting Ross Island :
1. Usually, people visit the island for only two to three hours. Ideally, a full day trip to the island is more enjoyable and worthy.
2. In case you wish to enjoy the Light and Sound Show on the island, you will have to take the 4:00 PM boat ride to the island, or a ride before that, to reach in time.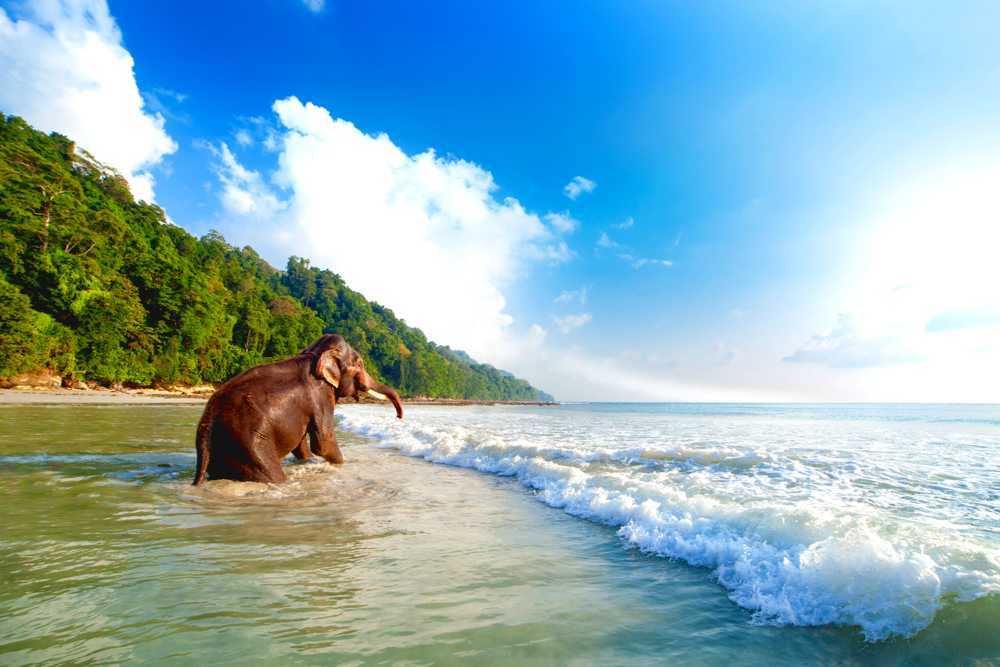 Elephant Beach, Andaman & Nicobar Islands Overview
With its brilliant coral reefs and alluring cyan waters, the Elephant beach is one of the locations that add to the beach paradise reputation of the Andaman and Nicobar Islands. These waters are a prime destination for tourists wishing to engage in water sports like snorkeling, swimming, banana boat rides, speed boats and diving. There are two ways to reach Elephant Beach: Take a ferry from Havelock Jetty to Elephant Beach (1000 INR per person) or trek for half an hour with a guide (INR 500). The trek starts at a distance of 2km from Radhanagar Beach.
For those who are here to relax, the beach offers some exciting food and drink options while one lounges leisurely on the sands. One could also engage in other adventurous activities like bird-watching, trekking and kayaking. As this area is famous for its coral reefs, sea walking is a major activity undertaken by almost every visitor to this beach, making this one of the best beaches of India.
Timings : 9:30 AM – 4:00 PM
The beach is open for day trips between 9-4. if you're planning to do adventure sports visit in between 10 AM -2 PM. The beach closes at 4 PM
Charges for Locker Room :
Locker room – INR 10 per day per locker
Facilities : * Locker rooms available
* Public toilets available at certain spots
* Snacks and seafood available in plenty at the beach shore
* Tour guides available
* First aid provision at select places
Elephant Beach trek : Distance: 2 km 
Charges: INR 500 per head for the complete trip
Best Time to Visit : April to June or during winters from November to March. Avoid visiting Elephant Beach during rainy season. The beach and the trekking area inside the jungle get slippery and can be very dangerous. Monsoon begins around August. During this time, entry to the beach and sports are usually closed.
Things to Note : 
* Mobile network can be an issue in the area. BSNL and Airtel work the best.
* No elephant ride available
* Scuba diving can be done at Havelock Island even if you don't know about swimming. However, one must go ahead only under expert supervision
* If you wish to undertake any of the water activities you must declare your health condition and make necessary disclosures
* Always check the weather beforehand
* Confirm with a local tour guide if it's suitable for you to go in for water sports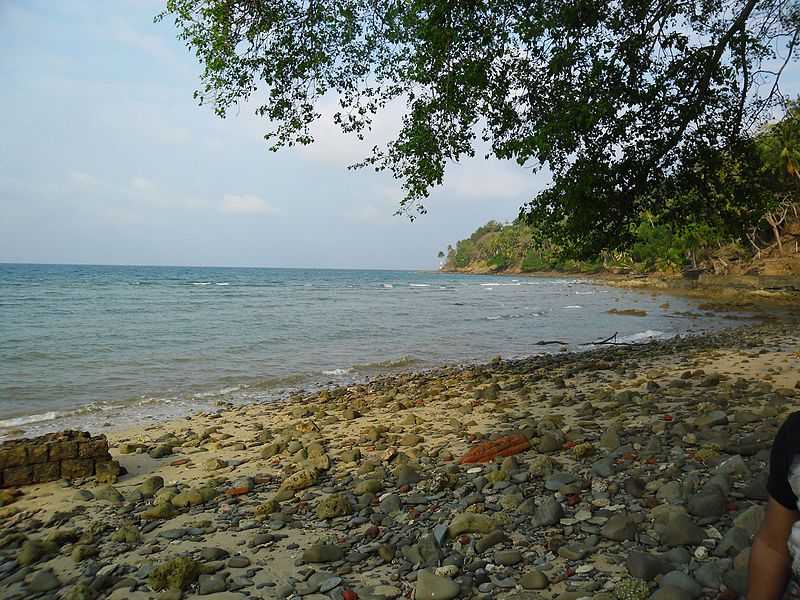 North Bay Island, Andaman & Nicobar Islands Overview
North Bay Island in Andaman is most preferred by tourists for its breathtaking coral reefs and exhilarating adventure activities. Interestingly, the picture of an island on the back of a 20 Rupee note is of North Bay Island.
North Bay Island competes with some of the most beautiful islands all over the world when it comes to attracting tourists. Activities like scuba diving, snorkeling, sea walking, and glass boat rides are what allures tourists the most. You will find more things to do here than at Neil Island or Havelock.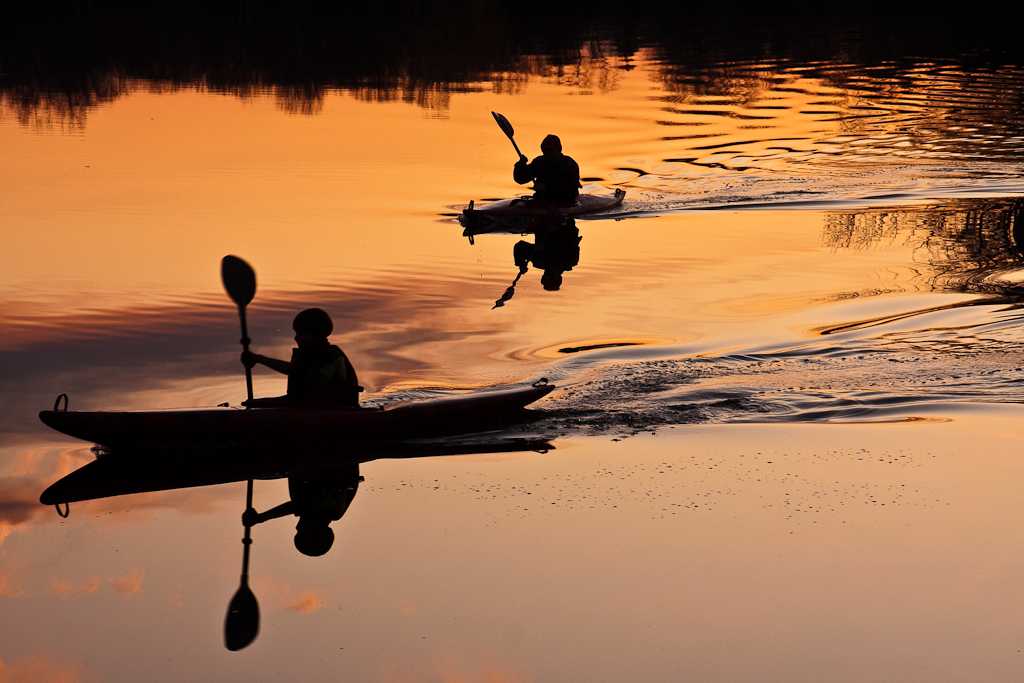 Night Kayaking in Andaman, Andaman & Nicobar Islands Overview
The Andaman and Nicobar Islands' mesmerizing natural beauty, featuring lagoons, mangroves, beaches, flora and fauna, makes for a unique night kayaking experience. Havelock and Port Blair are famous for their night kayaking or bioluminescence tours through mangroves, small islets, lagoons and more. Under the guidance of expert instructors, people get a chance to experience nature a little differently; see its slightly eerie side.
Exploring the bioluminescence caused by the organic activity of phytoplankton is a significant highlight of night kayaking in the Andaman and Nicobar Islands.
Other highlights of the activity include hearing the crickets chirping, stargazing and trying to identify constellations. 
Tours begin around sunset, and people can opt to ride single or double person kayaks.
Veer Savarkar Park (Port Blair) and Havelock Ferry Ghat (Havelock) are the most common locations to begin night kayaking tours from.
Veer Savarkar Park address: : Atlanta Point, Port Blair, Andaman and Nicobar Islands 744104, India
Havelock Jetty Ghat address: Havelock, Andaman and Nicobar Islands 744211, India
Price: : Approximately INR 3,000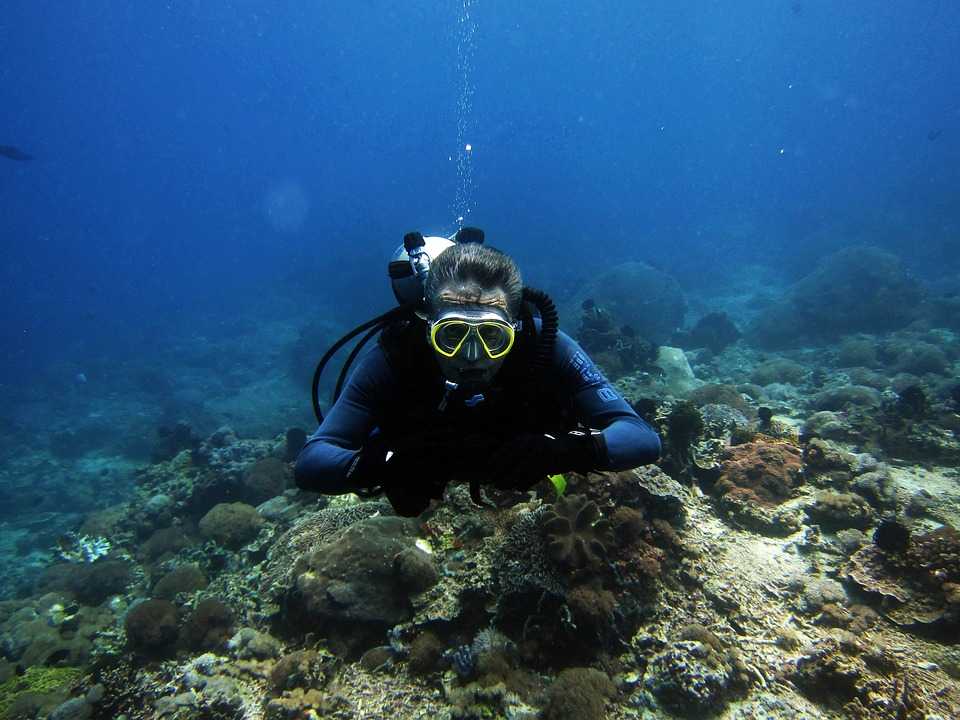 The clear waters of Andaman island host incredible marine life and state-of-the-art equipment and expertise. Over the years, scuba diving in the Andaman Islands has seen tourists flocking from different parts of the world, and this tradition never ceases to provide anything short of an awestruck experience. Indonesia, Micronesia, Cayman Islands, are some of the internationally acclaimed sites for scuba diving sites, however, being a little heavy on the pocket which is where scuba diving in Andamans is a more preferred option.  Here are more insights on the same.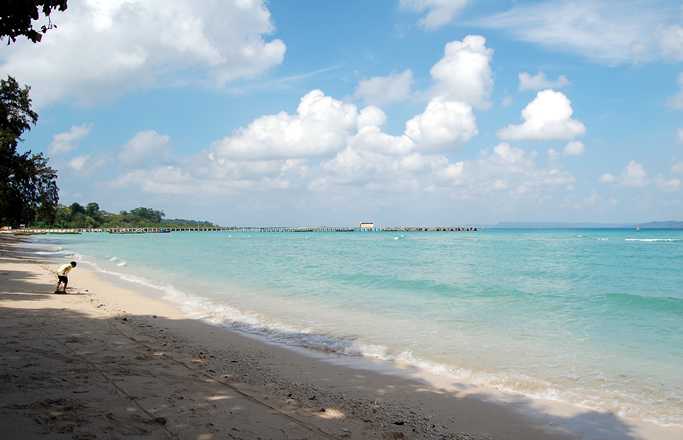 Bharatpur Beach, Andaman & Nicobar Islands Overview
Located just half a kilometre from the jetty at Neil Island, Bharatpur Beach is a stunning shoreline famous for water sports like snorkelling, glass-bottom rides, and scuba diving other than beach exploration and sunbathing. The shore has shallow water with coral reefs. If you wish to spend some time away from the crowd then one can easily find a peaceful stretch at this place. 
Time Required : 1 – 2 hours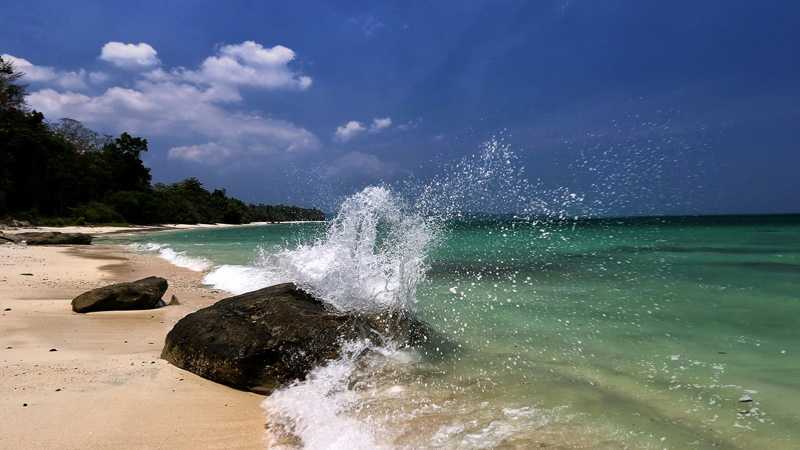 Kalapathar Beach, Andaman & Nicobar Islands Overview
Kalapathar beach is a long stretch of white silky sand with big black rocks beside the blue sea and is one the most popular beaches of Havelock Island. Being located on the one tip of Havelock Island, Kalapathar Beach is named after a Black Road (Kalapathar in Hindi) which runs parallel to the seashore. The beach is small but the way to the beach is very good. Mesmerizing views of sunset at this beach makes it a perfect destination to spend some peaceful time and also the beach is not so crowded which has kept it clean till date. The turquoise coloured water can actually be seen during the drive to the beach which makes it look even more mesmerizing. The black rocks the lie along the seashores make a bright contrast with silver sand. Green dense forests surround the beach from all the sides.
Being a relatively isolated and protected beach, Kalapathar does not have the usual shacks and resorts that other beaches do and hence can be visited as a stopover attraction. The whole beach is lined up with rich greenery and one of the best features about the beach is that it is comparatively silent and has less crowd which becomes a reason for why it sticks close to the visitor's heart. As the number of people is lesser, Kalapathar Beach is very special for couples and families who would like to spend time in peace and utmost calmness.
Time Required : 1 – 2 hours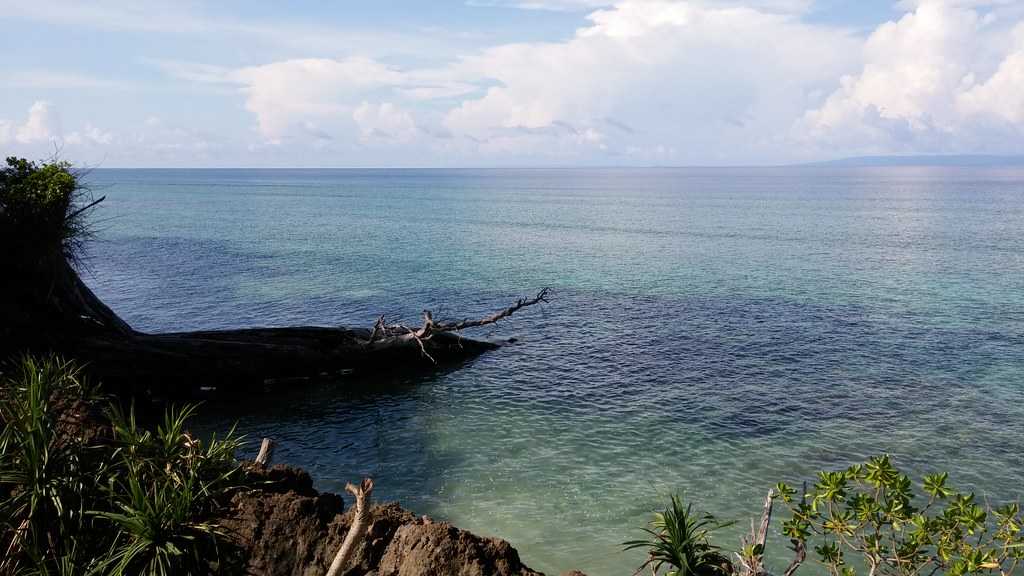 Neil Island Tourism
Neill Island is a part of the South Andaman Administrative District and belongs to Ritchie's Archipelago in the Bay of Bengal. A part of the massive ocean separates it from Ross Island and Havelock Island, Tourists visiting Havelock often make a day-long trip to Neill Island.
Perhaps the most endearing feature of this island is its three sandy beaches, namely Bharatpur Beach, Sitapur Beach and Lakshmanpur Beach. The forest cover has reduced considerably due to the cultivation of rice but a section in the north-west of the island is being preserved actively.
The regions where the forest cover is lost has a couple of degrees or so higher temperature than the region with enough flora. Nonetheless, Neill Island is the major supplier of vegetables to most regions of the Andaman Islands.
Due to its limited area, Neill Island can be covered with a simple walk. All three beaches are exquisite and extraordinarily clean and are well-connected to the mainland as well.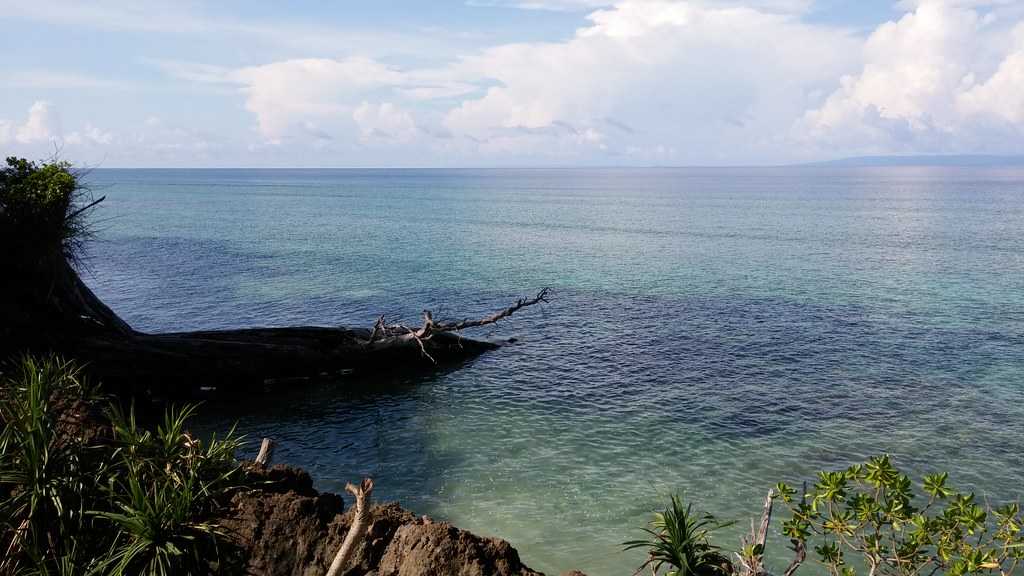 Laxmanpur Beach 1, Andaman & Nicobar Islands Overview
Laxmanpur Beach 1, located on Neil Island is known for its beautiful sunset. The sunset point is located right next to the beach. Offering amazing views of the sunset, one can relax and enjoy the view being seated at the huts and benches by the shore. Reach 15 mins before the sunset to catch a spot.
Things to Do : Shell Hunting, Sunset Viewing, Photography are popular at the white sand beach.
Laxmanpur Beach, Andaman & Nicobar Islands Overview
Located on Neil Island, Laxmanpur Beach is a long beach divided into two parts: Laxmanpur Beach I known for its mesmerising sunsets and Laxmanpur Beach II known for the two natural arch bridges or Howrah Bridge. The abundance of corals and marine life on the shores during the low tide is popular among the visitors. Walking towards the natural arch bridge can be a bit tricky as you will have to walk over the dead corals so it is highly recommended to wear proper footwear. You can also spot a myriad of marine life here. 
Must Know Before You Visit Laxmanpur Beach
How to Reach Laxmanpur Beach : Cab: Getting cabs to one attraction is hard to find. Drivers usually combine a couple of attractions like Laxmanpur, Sitapur and Bharatpur beach together. 
Charge for Cab: 1200 INR for AC Cab
Auto Rickshaw: You can easily find them at the Jetty. Make sure you book the return trip as it's very hard to find an auto to return. 
Charge for Auto Rickshaw: 120 INR on average excluding other charges.
Bus: Buses leave from Neil Island's jetty and reach within 30 mins. This is the most cost-effective way to travel. There are buses that leave twice a day from the jetty. 
Charge for a bus: INR 30
Rentals: You can rent a scooter near the jetty or pre-book it. Make sure you have a map and know the way before you leave.
Charge for Scooter Rental: INR 21/hr. On average, it might cost you 500 or less to pre-book a scooter.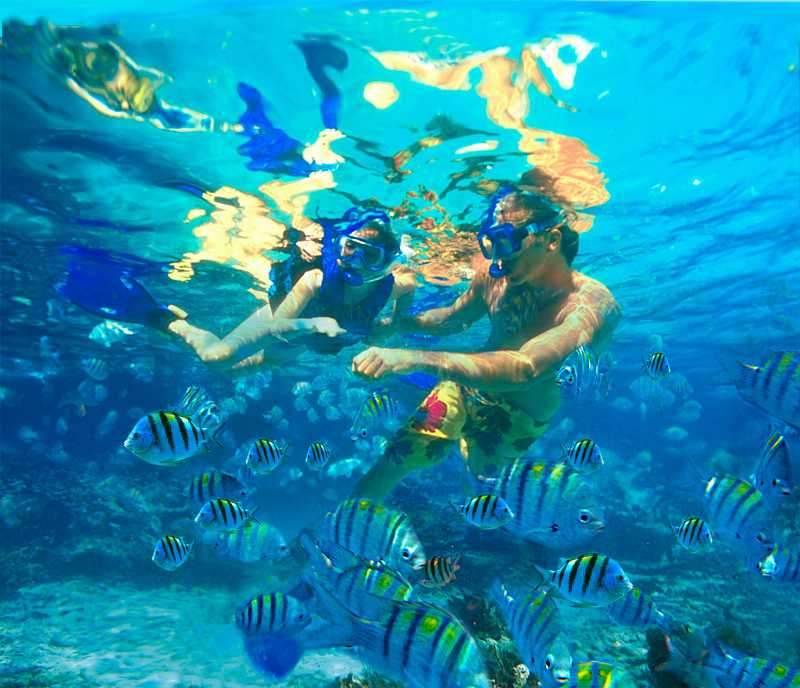 Snorkeling in Andamans, Andaman & Nicobar Islands Overview
The unique position held by Andaman and Nicobar Islands in the Indian Ocean guarantees a great avenue to experience snorkelling. There are various centres that offer short courses and provide the equipment required for snorkelling. They consist of various programmes for the beginner, intermediate and advanced swimmers. You can experience snorkelling at North Bay Island, Jolly Buoy Island, Havelock Island, Red Skin Island, in Wandoor, Long Island, Andaman Water Sports Complex, Neill Island, South Button, Henry Lawrence Beach, Rutland Island and Kalipur. Tourists can use local transport (roadways and waterways) to reach these required snorkelling locations. So, it is advisable to keep a close tab on the ferry schedules and make sure you reach in time.
Snorkelling is a water sport that allows swimmers to observe marine life without diving deep in the ocean and without having to carry heavy equipment. The only equipment that aids Snorkeling is a 30-centimetre long tube called a snorkel attached to a diving mask with glasses. Swimmers can be close to the surface of the water and yet see as much as possible of the life underwater.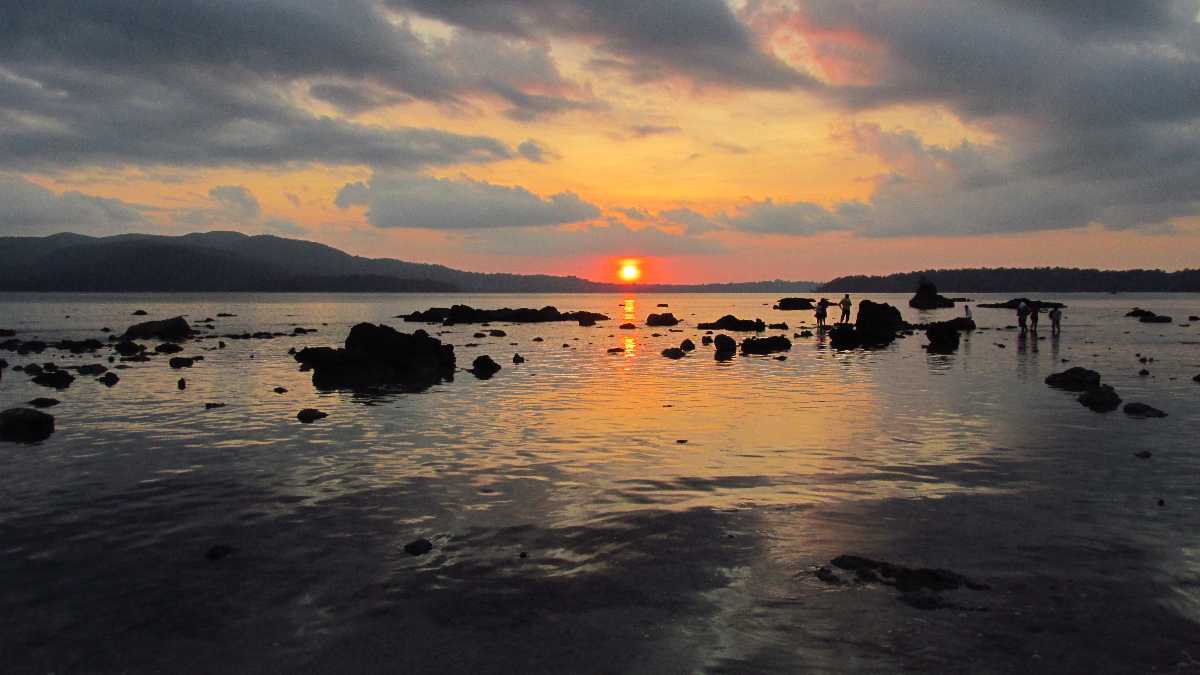 Chidiya Tapu, Andaman & Nicobar Islands Overview
Known as the bird island, Chidiya Tapu is a picturesque little island in the Andamans, located around 25 kms from Port Blair. While birdwatching is the main allure of the location, there are some fun water activities like snorkelling, scuba diving, deep-sea walking, pearl hunting, and boating that one could engage in along its shores. The Sunset point of the island considered one of the best sunset points in the Andamans. A trekking trail is available from the shores of the scenic beach to the grand Munda Pahad, an elongated black cliff at the edge of Chidiya Tapu with an open seascape providing a truly breathtaking view of the rich blue ocean.
The road to the beach lets travellers pass the fascinating rugged rocks of Kalpathar. Along with the myriad of mesmerising natural beauty, there is a mini zoo close to the beach where one can view interesting creatures like the monitor lizard. The waters are known to be inhabited by crocodiles, thus entering the water here is forbidden. However, watching the scores of birds fly by as you relax by the pristine water watching the alluring sunset is a memory of a lifetime.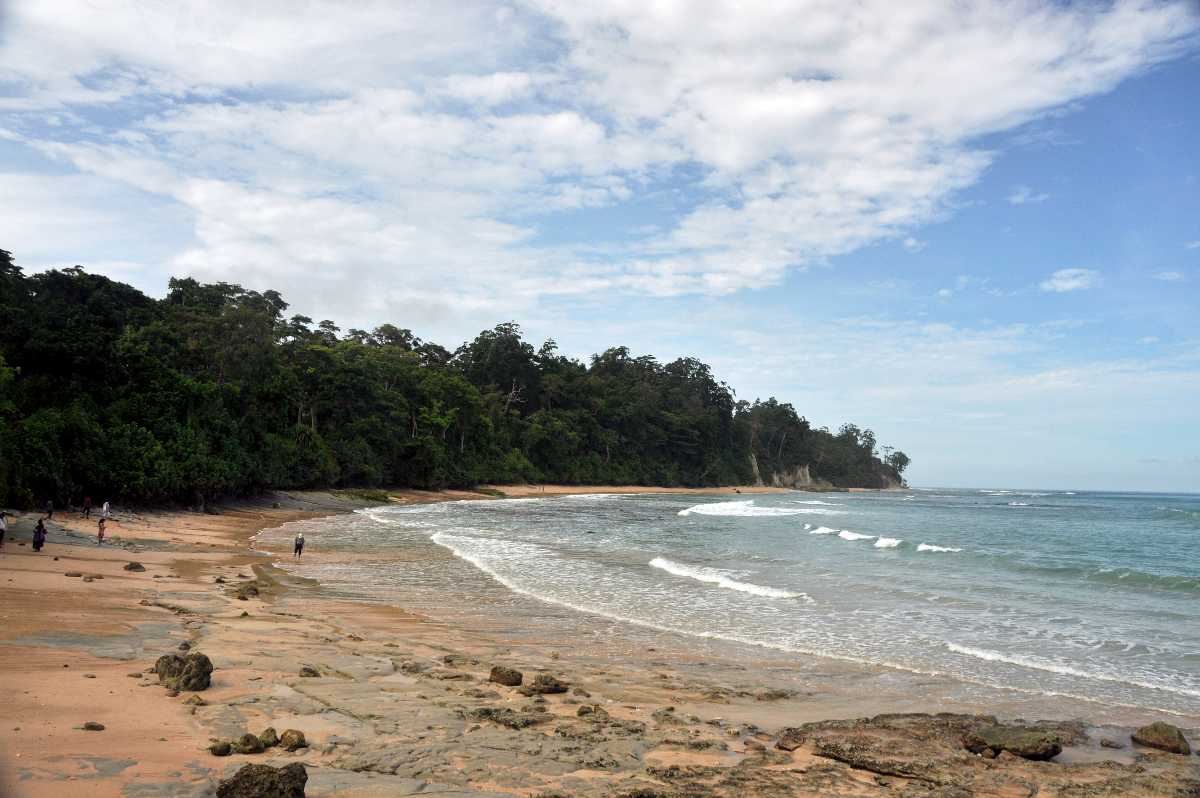 Sitapur Beach, Andaman & Nicobar Islands Overview
Sitapur Beach is also known as Beach number 5 or Sunrise Beach. is mostly known for its enchanting golden sunrises and sunsets, it is absolutely safe to swim in. There are very few places offering food and drink options, so you are advised to carry your own. Sitapur Beach can be reached by a Jetty or ferry from Port Blair to Neil Island.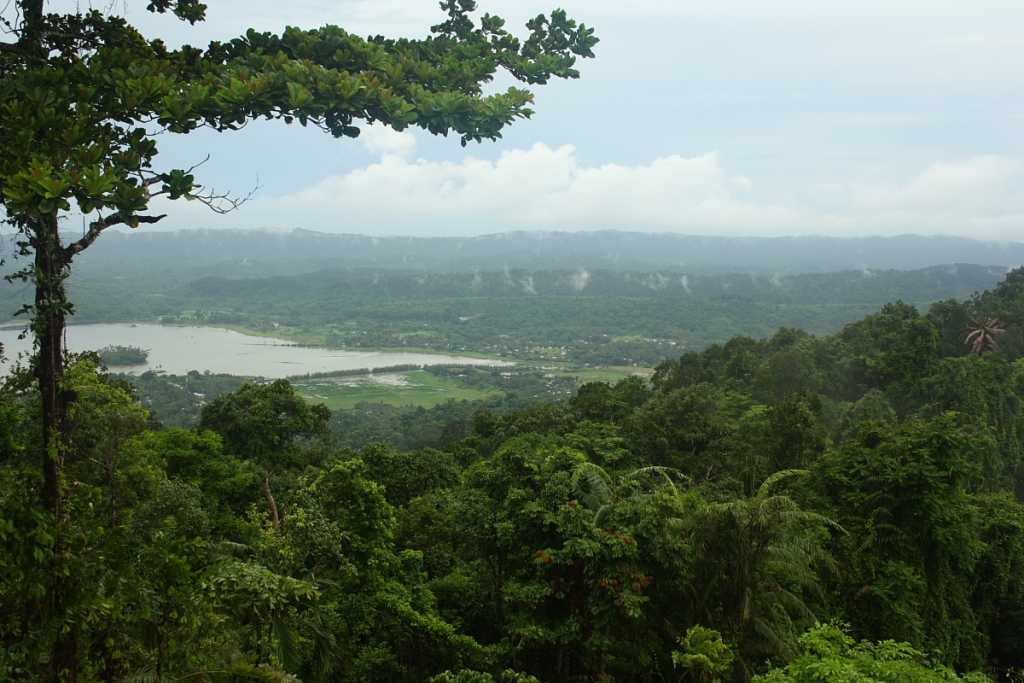 Mount Harriet National Park, Andaman & Nicobar Islands Overview
Off the nine national parks housed by the Andaman island, Mount Harriet National Park is undoubtedly the most beautiful one. Located in Ferrargunj Tehsil of Port Blair, Mount Harriet is the third highest peak (365m) of Andaman and Nicobar and the most easily accessible one as well. Spread over an area of 46.62sq km, the national park is home to several species of birds and animals. Due to its privileged elevated location, the park offers some astounding views of azure blues surrounding the island along with fascinating sunset and sunrise experience as well.
Must Know Before You Visit Mount Harriet National Park
Entry Charges : Park Entry Charges
· Adults (Indian) – INR 25 per person per day
· Children from the age group of 5 to 12 years (Indian) – INR 10 per person per day
· Students (Indian) – INR 5 per person per day
· Adults (Foreigners) – INR 250 per person per day
· Students (Foreigners) – INR 10 per person per day
Additional Charges
· Light Motor Vehicle – INR 20 per day
· Heavy Motor Vehicle – INR 50 per day
· Cycle or Motorcycle – INR 5 per day
· Video camera – INR 25 per day
· Still camera – INR 10 per day
· Film Shooting – INR 3000 (approx.)
How to Reach Mount Harriet National Park : Regular buses operate from the Andaman Teal House that takes the tourists directly to Mount Harriet National Park. Visitors can also opt for the vehicle ferry services from the Chatham jetty heading to the bamboo flat. It takes about 20 minutes to reach the park on the ferry, and the charges are only INR 4 per person.
Tips :
Avoid going to this national park during the rainy season as you might get caught by a leech especially on a trek to Kala Patthar which is a high Leech zone.
Wear a generous coat of sunscreen
Carry your own water to keep hydrated along the trek
Wear proper socks, shoes and nicely cover yourself to protect your body from leeches
Facilities :
Tents available for overnight stay
Children's park for kids to play
Tourist sheds and guest houses available
You won't find snack stalls in this area. Bring your own packed food
Public toilets available
Species : Andaman wild pigs, saltwater crocodile, turtles and robber crabs.
Attractions and Things to Do :
Butterfly house, Orchidarium, and the Madhuban Beach
Go trekking
Catch a glimpse of elephants carrying the lumber
Head to the observation deck to click pictures from a height
Established in : 1979
Time Required : November – May
Opening Timing : Monday to Sunday – 7.00 AM to 5.00 PM
Best Time to Visit Mount Harriet National Park : November until May
Total Area : 46.62 square kilometres
Highest Point : 383 metres high
General Trivia : The picture on the backside of the INR 20 note was taken in this National Park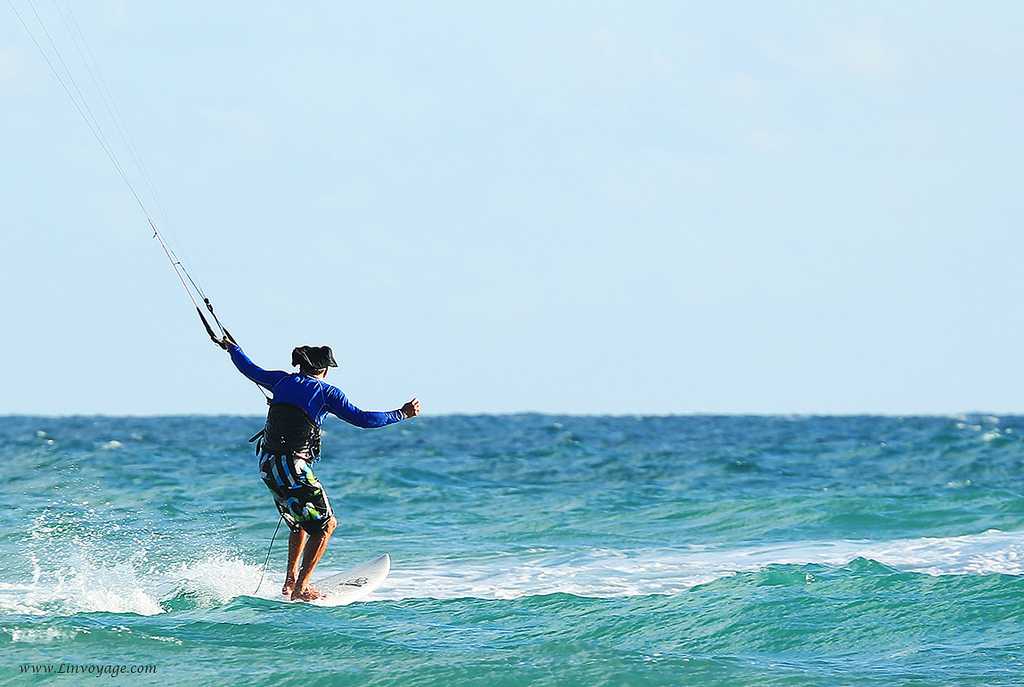 Water Sports in Andamans, Andaman & Nicobar Islands Overview
Water Sports in Andaman has been a major attraction for adventure seekers and water babies. Although the demand for water sports is fulfilled at various locations in Andaman, Water Sports Complex located in Port Blair is popular for the variety and safety they offer. Whether it is swimming, snorkelling, scuba diving, fishing or just a boat ride, there is something to suit everyone's desire. The services provided by the complex guarantee an enjoyable time sailing the sea and even exploring it underwater. If one is daring enough, they can even sail through the permitted shoreline of Port Blair on their own all under the watchful eye of the staff. Swimming isn't a prerequisite for any of the activities and thus, tourists can enjoy them without any hesitation.
The Water Sports Complex in Andaman is located close to the northern shoreline of Port Blair near Aberdeen Jetty. The complex has a demarcated area for water sports in the Andaman Sea where adventure buffs can go Skiing, Kayaking, Paddle Boating, Banana Boat rides, Rowing, Para Sailing etc. They provide all the necessary facilities for a safe and enjoyable experience. Other water sports like Scuba Diving, Snorkelling, and Undersea Walking are extremely famous here. It is one of the few places in India that offer services for these water sports.  
Timings : 10:00 AM to 06:00 PM
Time Required : 1 – 2 hours
Entry Fee : Depends on activity chosen
Corbyn's Cove Beach, Andaman & Nicobar Islands Overview
Corbyn's Cove is the nearest beach to Port Blair. It is quite popular among tourists as well as locals. Certain parts of the Corbyn's Cove Beach have some seating arrangement to get a good view of the horizon from a little height. There are some shacks that sell local snacks, drinks, coconut water etc.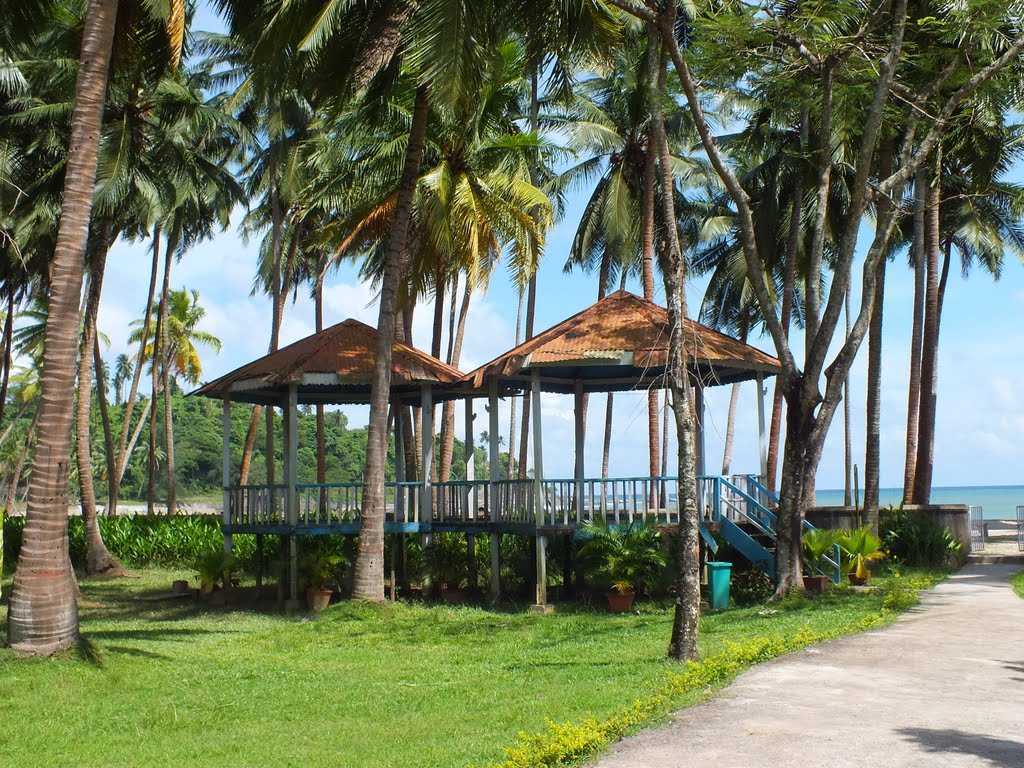 Corbyn's Cove Beach, Andaman & Nicobar Islands Overview
Corbyn's Cove is the nearest beach to Port Blair. It is quite popular among tourists as well as locals. Certain parts of the Corbyn's Cove Beach have some seating arrangement to get a good view of the horizon from a little height. There are some shacks that sell local snacks, drinks, coconut water etc. There are some restaurants also in the vicinity. The beach is one of the places where travellers can get great deals on clothing, accessories and other items to be bought as memorabilia. Corbyn's Cove Beach has some provision for water sports but often people do not want to enter the waters because the surroundings are littered and the water polluted with garbage. The facilities for water sports are also not as impressive as many other beaches in Andaman and Nicobar Islands. But if one wants to, they can go Jet Skiing or a go on a short boat ride into the sea.
The beachfront at Corbyn's Cove is one of the attractions often covered in the sightseeing itinerary for tourists visiting Port Blair. Many prefer the beach for sunbathing and water sports if they cannot or do not want to travel to other islands or beach fronts. The entire shore is lined by tall coconut trees and visitors can stroll through them before hitting the sands.
Timings : All days of the week: 12:00 AM – 12:00 PM
Time Required : Around 30 minutes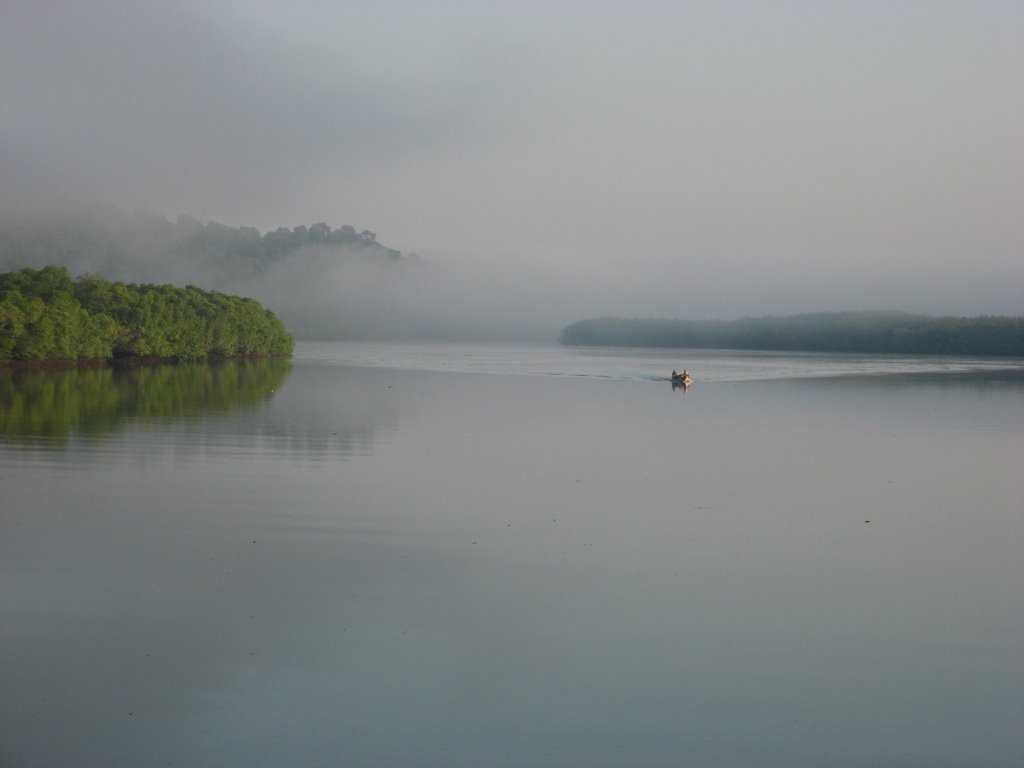 Baratang Island, Andaman & Nicobar Islands Overview
Baratang Island, also known as Ranchiwalas Island, is a beautiful little island in the North and Middle Andaman Administrative district and is situated about 100 kilometres away from Port Blair by road. The island is well-known for its mangroves, mud volcanoes (only ones in India) and limestone caves. However, you may need to take permission from the Forest Department at Baratang to explore these caves.
Unlike Havelock Island, Baratang Island is not as developed for urban tourism and mostly serves as a hub for natural sightseeing. You can reach Baratang island via the government ferry service that runs between Port Blair city at the Phoenix Bay Jetty. Andaman Trunk Road that connects Rangat and Mayabunder passes through the Baratang Island and meanders through the lush green rainforests.
Must Know Before You Visit Baratang Island
How to Reach Baratang Island : Baratang island is located 100 km from the capital of Port Blair. You can choose to book a private taxi or take the government buses which run from Port Blair. There are also government ferry services that run between Port Blair and Baratang Island and onward to Havelock Island.
Ferry Services
Timings and Location: They start at the Phoenix Bay Jetty at 05:30 AM each day.
Tickets: You can avail the tickets for the same at the  Single Window, Tourist Information Center at the Directorate of I & P, between 09:00 AM to 04:00 PM.
| | | |
| --- | --- | --- |
|   | Arrival  | Departure  |
| Port Blair  | — | 05:30AM IST |
| Baratang  | 08:30 AM IST | 1:00 PM IST |
| Port Blair  | 05:00 PM IST  | — |
Private Jeeps: INR 400- INR 800 on average per vehicle. 
Private Cars: These aren't cost-effective but convenient to travel. It might cost you INR 6000 per vehicle/day. 
Bus: Government bus is comparatively cheaper as compared to private vehicles – INR 45 per head
Things to Note : 1. While visiting the limestone caves, do not try to make contact with the tribal people.
2. The mud volcano isn't an ideal destination for children below 10 years.
3. Always stick to your routes and not venture into the restricted areas.
4.The food outlets here serve delightful Indian cuisine as well.
5. Keep in mind that many locals here are not well versed in English.
6.  If you wish to halt for a night, a special permit is needed from the UT Administration
7. Avoid sunbathing because of ample sand flies swarming in the area
Timings : One must be a part of a convoy to get through the jungle and eventually to the island. The first lot starts at 6:30 AM and the last one is at 2:30 PM (refer note). You can plan your trip accordingly. The first convoy timings are as follows –
– 6:30 AM – start from Jikaratang to Nilambar jetty escorted by security personnel
– 9:00 AM – take a ferry ride to Baratang Island – duration 20 minutes
Activities and Experiences : Popular activities at the Batarang Island include boating through the mangrove forests and limestone caves, untouched beaches, light treks and hikes and bird watching.
Also Known As : Ranchiwalas Island
Best Time to Visit : October to May. Going during monsoons can be dangerous and must be avoided.
Facilities : – Availability of Forest and PWD guest houses. Advance booking required
– Toilets at Jirkatang check post
– Tea stalls and small South Indian food joints can be found at Jirkatang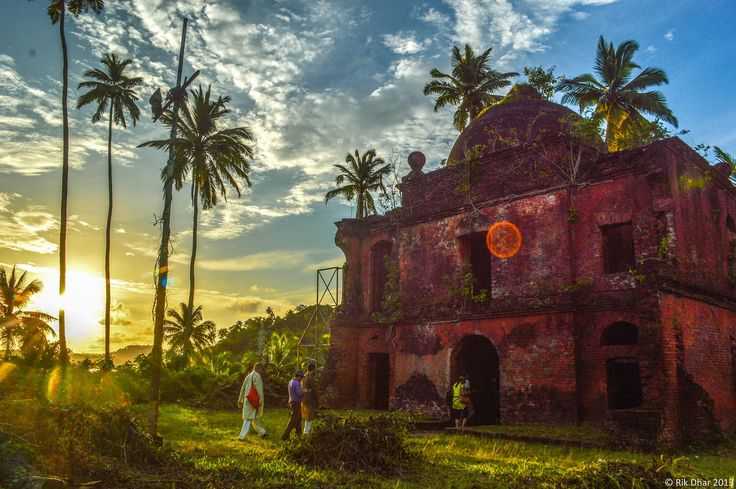 Viper Island, Andaman & Nicobar Islands Overview
Years before Cellular Jail was constructed, Viper Island was used by the British to keep the freedom fighters in exile. You can still see the remains of the jail which was built in 1867 by the British. Located at a distance of 10 minutes ferry ride from Port Blair, the island got its name from the vessel in which Lt. Archibald Blair came to Andaman and Nicobar in 1789. Covering an area of 69 acres this beautiful island is situated at a distance of 23.6 kilometres from Port Blair. Legend also has it that there were numerous viper snakes present on the island which is how it got its name.
 On the way to the island, you will also come across the main port and the navy ships of Port Blair. You can also enjoy the view of the cellular jail and its tower from the boat.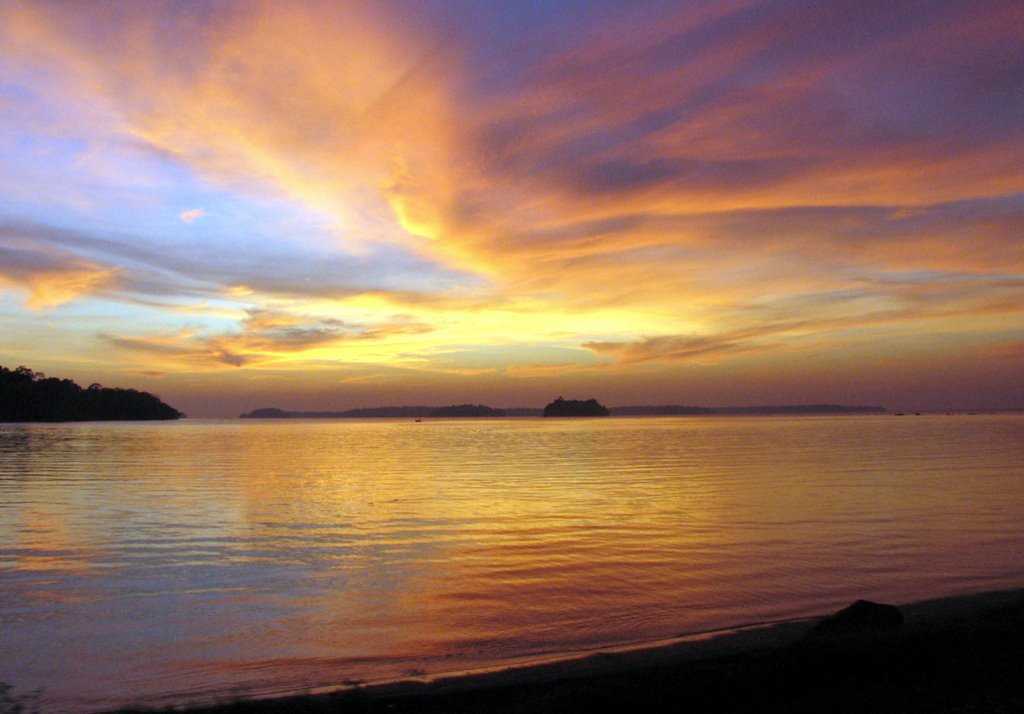 Wandoor Beach, Andaman & Nicobar Islands Overview
A small village in the southern part of South Andaman, Wandoor is most recognized for the Mahatma Gandhi Marine National Park, which is among the regions with the richest marine biodiversity. Wandoor Beach is situated at the mesmerizing South Andaman Islands. Two islands named Alexandra Island and Red Skin Island are also close to the beach and if you are adventurous, then take a boat to the islands for a trip.
Wandoor is easily accessible and is only 1-2 hour by road from Port Blair. Moreover, the unique location of this place makes it a great place to go swimming as well as to enjoy the sight of coral reefs. You can also just sit by the beach and enjoy the clear blue waters and spotless white sand.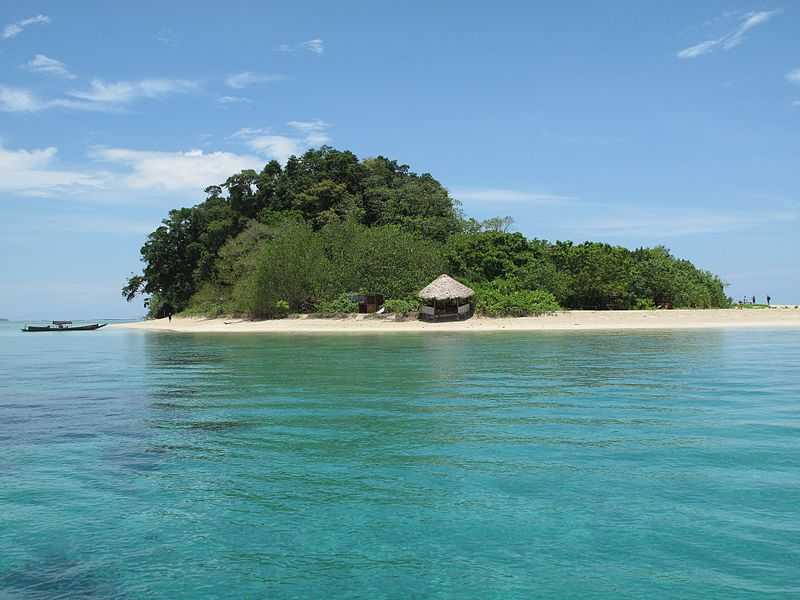 Jolly Buoy Island, Andaman & Nicobar Islands Overview
Jolly Buoy is home to a rich diversity of corals, marine life, and myriad shades of blue and is the most famous island in the archipelago of the Andaman and Nicobar. It is a part of Mahatma Gandhi National Park and thus displays a rich variety of underwater life. The clean and serene water with white sand beaches make it one of the most preferred vacation destination in the south. You will be able to explore the rich marine life including colourful corals reefs and fishes in this place with the means of water activities. Jolly Buoy Beach and the island are a great place to spend some peaceful time while sitting on sand and listening to the rustling of water. Jolly Buoy Island is only a day's visit as the jetty that transport people here starts from 9 am and returns at 2 pm as people are not allowed to stay here post-sundown.
Time Required : 1 – 2 days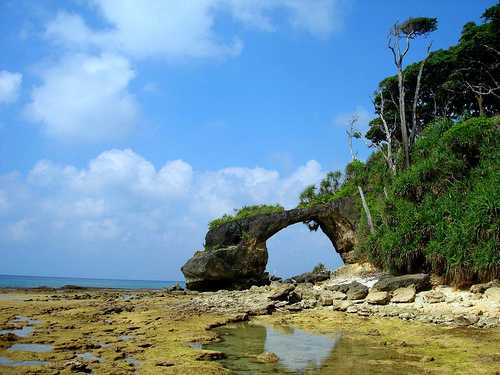 Howrah Bridge (Neil Island), Andaman & Nicobar Islands Overview
The Howrah Bridge or the Natural Bridge is a bridge-like formation located in the famous 'vegetable bowl' of Andaman or Neil Island. This small but beautiful island can be found approximately 40 kilometres south of the Andaman and is widely known for its beaches named after mythical creatures of the epic, Ramayana – the Sitapur, Bharatpur, Ramnagar and Laxmanpur beaches. The Howrah Bridge is situated in the Laxmanpur beach of Neil Island and is extremely popular among tourists. It is a must-see for any nature lover.
Vijaynagar Beach, Andaman & Nicobar Islands Overview
Vijaynagar Beach is one of the most famous beaches on Havelock Island and mostly visited for beach exploration, bird watching, fishing, trekking and thrilling water sports like snorkelling, surfing, sailing and swimming. The picturesque beach has a long stretch of white sand and the pristine turquoise water reflecting the clear blue skies is a view worth visiting. Being located on Havelock Island, Vijaynagar Beach is well-connected to the mainland. Autorickshaws and taxis are available from Havelock Jetty. Kayaking, snorkelling, swimming, and bird watching are among the most common activities carried out here.
Time Required : 1 – 2 hours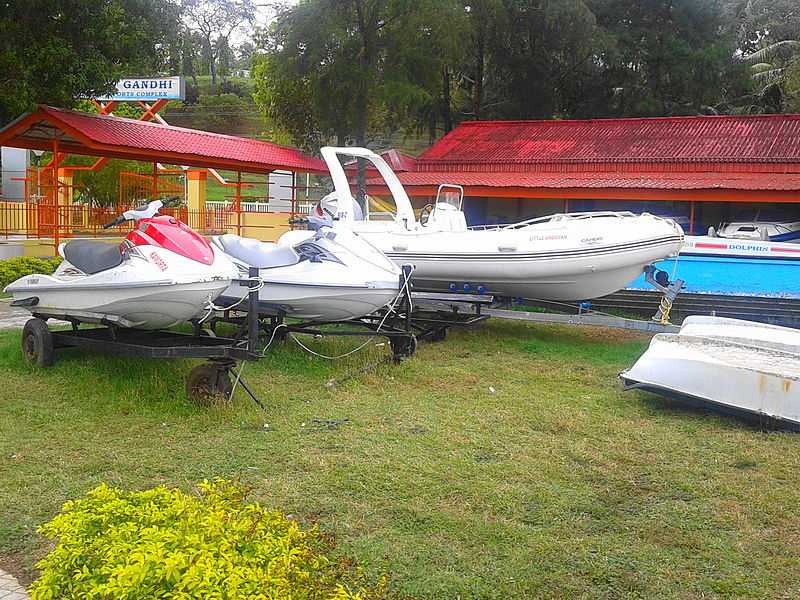 Rajiv Gandhi Water Sports Complex, Andaman & Nicobar Islands Overview
The picturesque Andaman and Nicobar Islands have a plethora of tourist attractions to ensure a merry time for its tourists. Among these places, for adventure enthusiasts, Rajiv Gandhi Water Sports Complex is a must-visit spot. Also known as the Andaman Water Sports Complex, the place offers a complete fun-package in the form of enthralling water sports activities. Now you must be curious to know the kind of activities Rajiv Gandhi Water Sports Complex hosts – these are paddle boats, row boats, banana boats, parasailing, speed boats, snorkelling, scuba diving, sea walking and much more.
While water sports attract visitors, Rajiv Gandhi Water Sports Complex also has historical significance. The Battle of Aberdeen between the Andaman natives and Britishers was fought at this location in 1859. Therefore, if by any chance you are not inclined to participate in the water sports activities here, visit Rajiv Gandhi Water Sports Complex to see the war memorial. There is also a children's park nearby which is a famous entertainment zone for the little ones.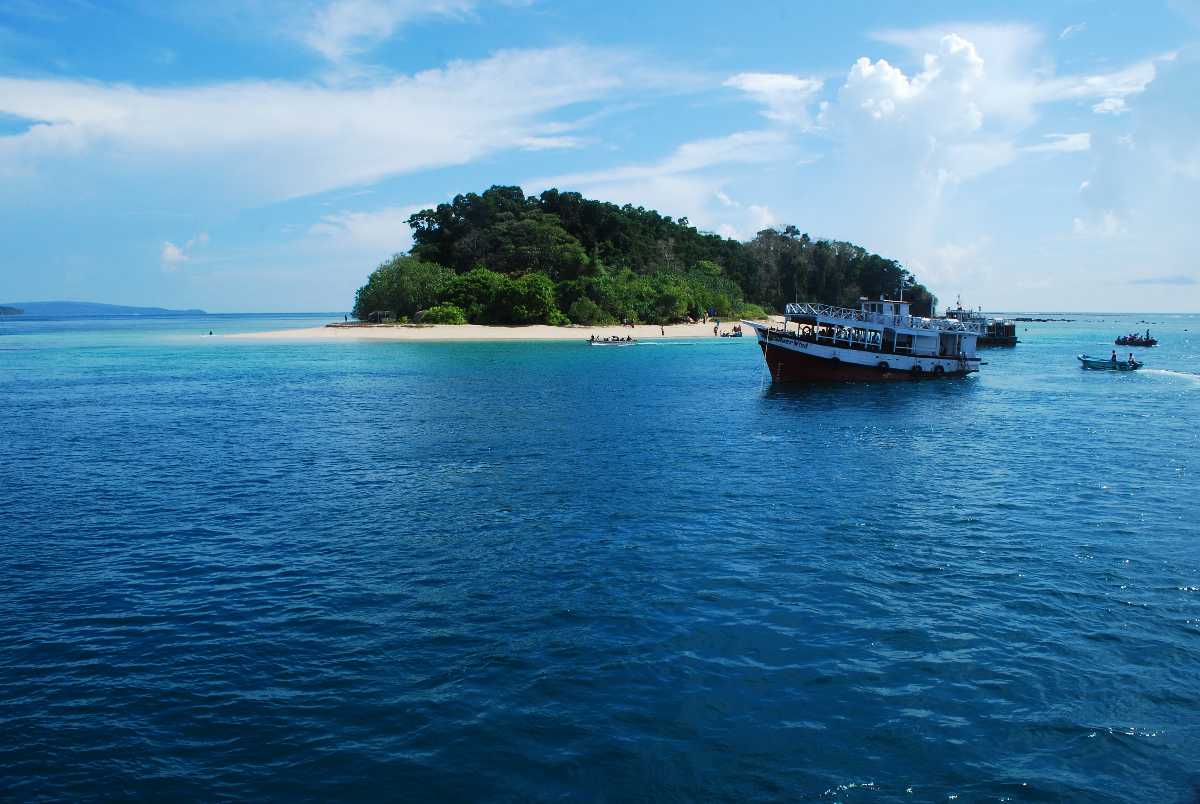 Mahatma Gandhi Marine National Park, Andaman & Nicobar Islands Overview
Located on the south-western coast of the Andaman Islands, Mahatma Gandhi Marine National Park or Wandur National Park is a marine life conservation area situated at a distance of 25 km from the capital city of Port Blair. The wildlife sanctuary consists of a group of 12 islands that are situated in a labyrinthine shape and are home to some of the most exquisite marine life in the world including corals and resting sea turtles among other species.
Mahatma Gandhi Marine National Park was established in the year 1983 in order to conserve the marine life of the area. Its surrounding areas are beauteous with pristine white-sand beaches, azure skies and clear water. Covering an area of over 220 sq. km., the national park is a great place to try some snorkelling and diving in the crystal clear water of the islands giving one an opportunity to see nature's glory from a close view. The coral reefs are the highlight of the park exhibiting their glorious forms and enchanting one and all. The famous islands to visit are Jolly buoy Islands, Redskin Island, Grub Island, Rangat Island, Neil Island and Long Island. The Mahatma Gandhi Marine National Park can amaze and dazzle everyone visiting especially those who hold marine life and the sea close to their hearts.
Timings : Boat trips: 8:30 AM – 10:30 AM (interval of 30 minutes)
Entry Fee : Reserve entry: INR 50,
Camera: INR 25,
Boat ride to Red Skin Island: INR 300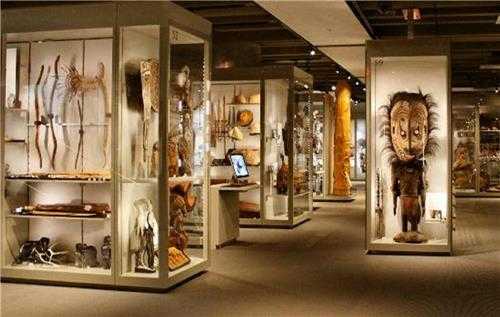 Anthropological Museum, Andaman & Nicobar Islands Overview
The Anthropological Museum, situated in the heart of Port Blair, is an ethnographic museum detailing the lives and cultures of the various tribes that have lived here: Jarawas, the Onges, the Sentinelese, the Shompens, and the Nicobarese. Inside the museum, one will come across various artefacts, tools, clothes, boats, leaf baskets, and weapons from different eras of the tribes of this region.
Among the highlights of this museum are an ancient Jarawa chest guard, a skull originating from the Sentinelese region, and the shamanic sculptures created by the Nicobarese.  For history buffs looking to learn more, the museum also contains a well-stocked library detailing the lifestyle of these cultures.
Timings : Morning: 9:00 AM – 1:00 PM
Afternoon: 1:30 PM – 4:30 PM
Closed on Mondays and Government holidays
Time Required : 2 – 3 hrs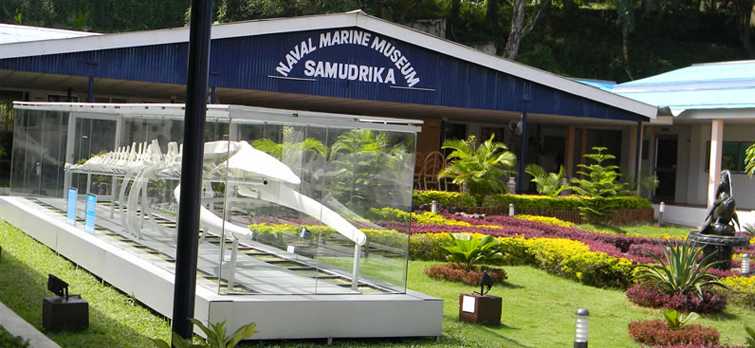 Samudrika Naval Marine Museum, Andaman & Nicobar Islands Overview
Samudrika Naval Museum is located in the capital city of Port Blair and is the pride project of the Indian Navy. With comprehensive coverage of the marine life present in the deep waters surrounding the island chain's territories, this fascinating museum is an amazing source for details on the environment in the ocean, its ecosystem and its biodiversity. The museum also provides in-depth knowledge on the history and culture of the Andaman and Nicobar Islands.
Samudrika Naval Museum has five sections that can each cover the history of the islands, the geographical information, the people of Andaman, the archaeology and the prime allure: the marine life. This museum is home to 350 varieties of marine life including rare fish, enamouring seashells, and diverse corals. The well-maintained Museum is spread over five rooms, which present the history of Andaman and Nicobar Islands, Geographical information, People of the Island, Archaeology and Marine Life of the Island. But the showstopper of this Museum is the huge skeleton of a Blue whale present in the lawn which was once rescued from Nicobar Island.
Timings : Tuesday – Sunday: 9:00 AM – 5:00 PM
Closed on Mondays
Time Required : 2 – 3 hrs
Entry Fee : Adults: INR 50 adults,
Kids (aged 5 – 12): INR 25 kids 5-12,
Free entry for senior citizens (A&N), differently abled, and freedom fighters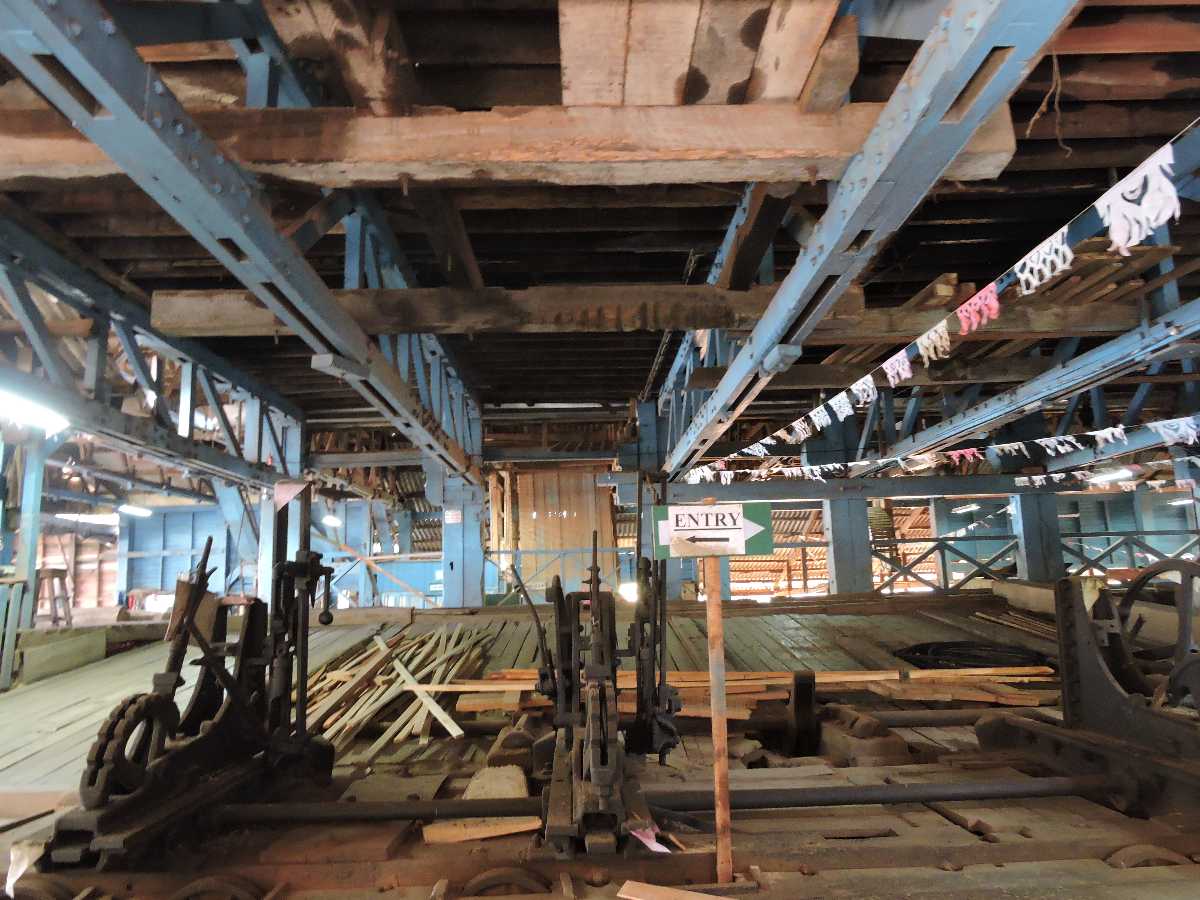 Chatham Saw Mill, Andaman & Nicobar Islands Overview
Chatham Saw Mill is a 19th Century attraction in Port Blair which is renowned as the oldest and the largest sawmill in the continent. It is the only sawmill that provides timber for construction work on the island and is one of the few mills that export timber to industries and furniture units across the world. It is believed that the crimson wall panels at the Buckingham Palace in London have been made of the planks sourced from the mill.
Chatham Saw Mill is considered as a functioning historic attraction as it has been around for over a century. A tour of the mill and the warehouse can be taken by visiting tourists. There is also a museum inside the mill that gives a sneak peek into the history of Chatham Islands and also details of the geology, geography and the biodiversity of the island. The mill is one of the noisiest attractions in the region because it is an operational mill. So, tourists who want a serene getaway can skip the attraction.
Timings : All days of the week except Sunday: 8:00 AM – 2:30 PM
Time Required : 30 Mins to 1 Hour
Entry Fee : INR 10 per person, INR 50 (guided tour)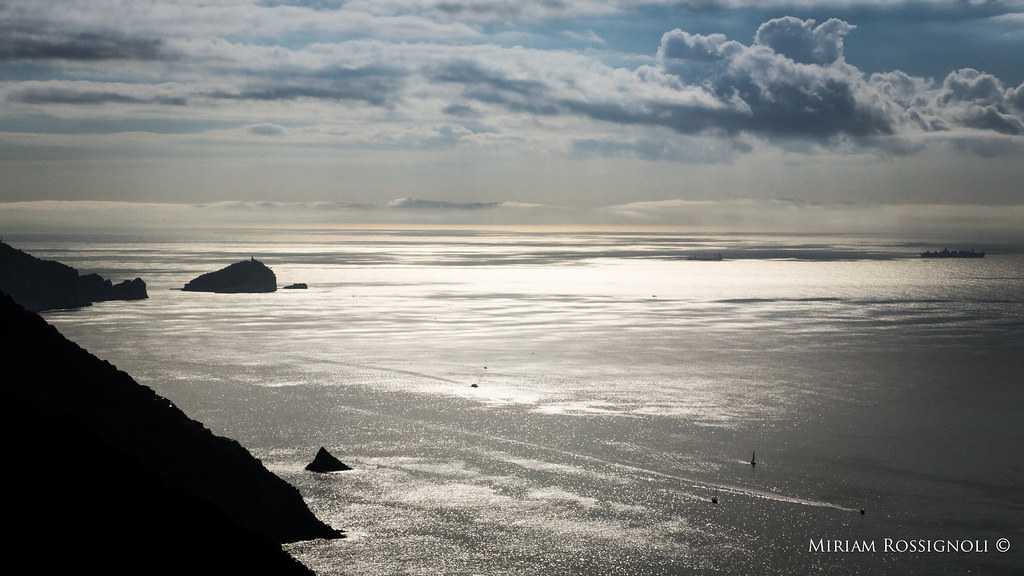 Cinque Island, Andaman & Nicobar Islands Overview
Located 26 km from the capital, Port Blair, Cinque Island is an inhabited isolated part of the Andaman Archipelago. It is nestled between Passage and Duncan Island towards the north side. The island is further divided into North and South Cinque Islands. The islands are collectively a part of Wandoor Marine National Park, or more commonly known as Mahatma Gandhi Marine National Park.
A white sandy beach surrounded by lush green tropical rain forest, a visit to Cinque Island is a calming experience. With a rich and exotic marine life including coral reefs, vibrant and colourful fishes, sea anemones, turtles, saltwater crocodiles, starfishes, seaweed, water snakes, the rare sea cow among more, the island also offers professional scuba divers to test their diving skills and amateurs to learn diving from PADI instructed divers. The island is also great for other activities like sea walking and snorkelling. The view under the pristine water is stunning. The best time to Scuba dive is between December to February as the visibility is fantastic.
You can also reel in (pun intended) a few fishes by engaging in a fun fishing game at the island. Black Marlins, giant trevally, and tiger Cobras are a common catch here. You can then have a hearty lunch by the sea.
Partake in these fun-filled activities or spend a day lazing around, finish that long due book and catch the sunset. Either way, you are in for a fantastic time. The natural beauty of this island attracts a large crowd from all over the globe.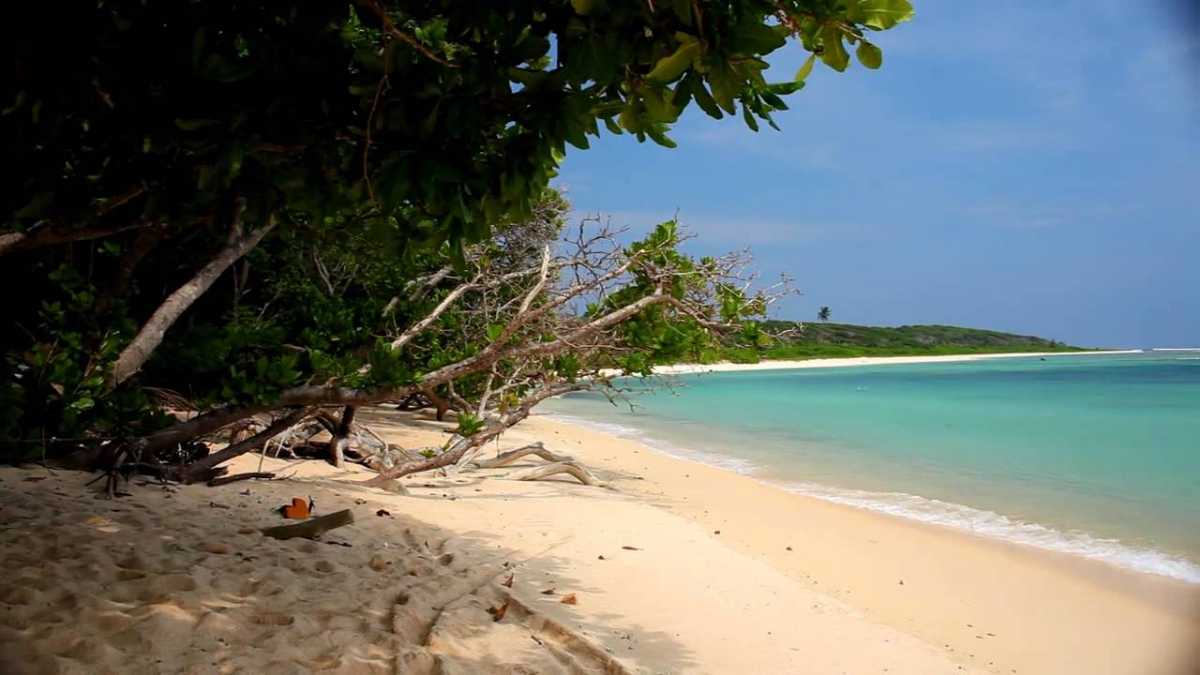 Little Andaman, Andaman & Nicobar Islands Overview
Little Andaman, a beautiful island with crystal blue waters and clear sand beaches all around, is the fourth largest island of the archipelago of the Andaman and Nicobar Islands, India. It lies to the southern end of the archipelago over an area of 730 square kilometres. The island is home to an extensive rainforest and rare species of marine turtle. If you explore enough, you could also come across some breathtaking waterfalls. This mesmerizing Little Andaman is a traveller's paradise with numerous hotel stay options by the beach.
Little Andaman is part of the Indian Union Territory of Andaman and Nicobar Islands and belongs to the administrative district of South Andaman. It is also known as Gaubolambe in the native language, Onge which is spoken by the Onge aboriginal tribe. The island is also called Ebu Belong, and these people have been the island's native residents since 1957. So far the population of over 18,000 inhabitants occupies 18 villages on the island along with the main village, Kwat-tu-kwage on the Hut Bay.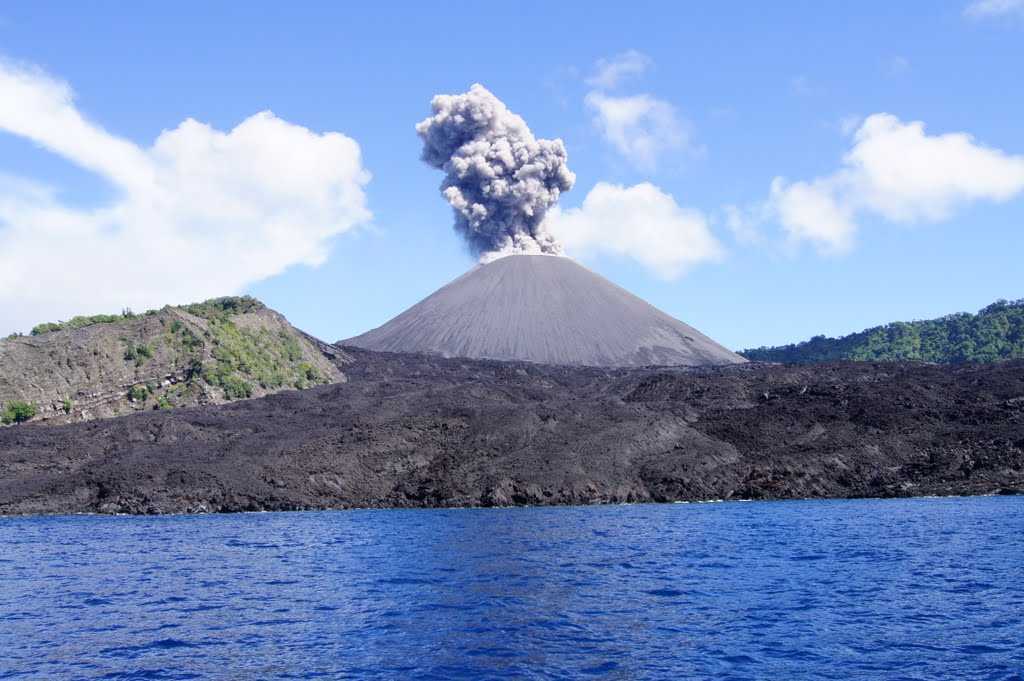 Barren Island Volcano , Andaman & Nicobar Islands Overview
Located about 135 kilometres to the northeast of Port Blair, Barren Island is situated at the intersection of the seismically active Indian and Burmese plates and is 1.8 million years old and is home to the only active volcano in the Indian subcontinent. As the name suggests, the island is largely uninhabited, thanks to the volcano eruptions that take place here at frequent intervals. Although sightseeing around the island is not that common, you can obtain permissions from the local forest department to do so. There are a number of ferries and boats that can take you around to visit the island. However, due to the unpredictability of the volcanic eruptions, visitors are not permitted to land on the shores and are offered a view from the sea, which is quite breathtaking.
The crater of the Barren Island volcano is about half a kilometre away from the shore. The black bedrock of the island lends the sand on the beach a deep purple-black hue that contrasts beautifully with the vibrant blue of the ocean and underwater vibrant marine life. What is interesting is that even though the existence of this volcano is not a hidden fact, and has been known since centuries; owing to little-publicised research with restricted and limited access, the island continues to remain an unexplored mystery.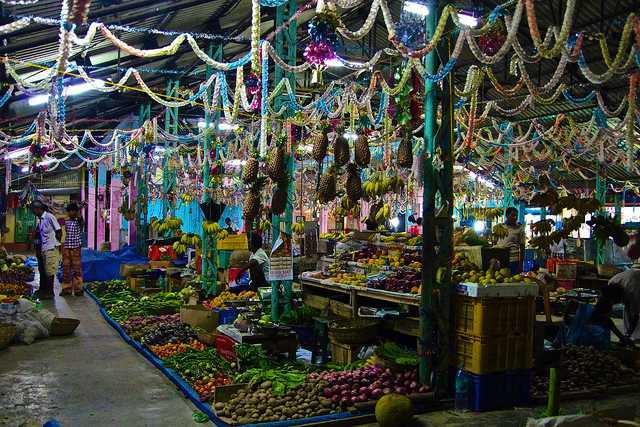 Shopping in Andaman, Andaman & Nicobar Islands Overview
A beautiful island, coupled with serene ambience and picturesque view, there's nothing not to love about Andaman. Regarded as one of the most preferred destinations for tourists, this island will leave you spellbound! Popular for snorkeling and other water adventure activities, the group of islands serve as a haven for people looking to enjoy long relaxing beach vacations. While there are a lot of things to do in Andaman, there's one thing that should not miss out on your list- Shopping! The cute little shops around the corner are always buzzing with people. The tourism industry of Andaman is thriving not just because of the location and water adventures but because of its handicrafts emporiums as well. What are you waiting for? Go ahead, treat yourself and indulge in a retail therapy by collecting tropical souvenirs there!
Just prepare to loosen up your wallet a bit because you are going to fall in love with the variety of products you could spend your money on! With a shop or stall in every nook and crook, shopping in is a great experience indeed. Shopping centres, local and beach markets, Aberdeen Bazaar, Government Emporium, Handicrafts Emporium, Anup Eco Arts, Goalghar, Junglighat, Prem Nagar and Delanipur are just a few of the places wherein you can grab some of the most amazing stuff the island has to offer. Port Blair is the busiest zone of the town with an array of shops selling products that the island is infamous for.
What To Buy In Andaman 
The markets of Andaman are famous for the seashell products. From the beautiful pieces of jewellery made out of the shell to the exquisite home decor, you would find various creative products made out of shells that would make you light up your wallet soon enough. The pearl jewellery of the city is also a famous souvenir that you must buy from the islands. Apart from seashells products, Andaman is also famous for the bamboo artefacts. There is some eye-catching piece of products made out of bamboo that decorate the vibrant streets of Andaman. There are bamboo mats, wooden utensils, and showpiece, home décor that would grab your attention then and there.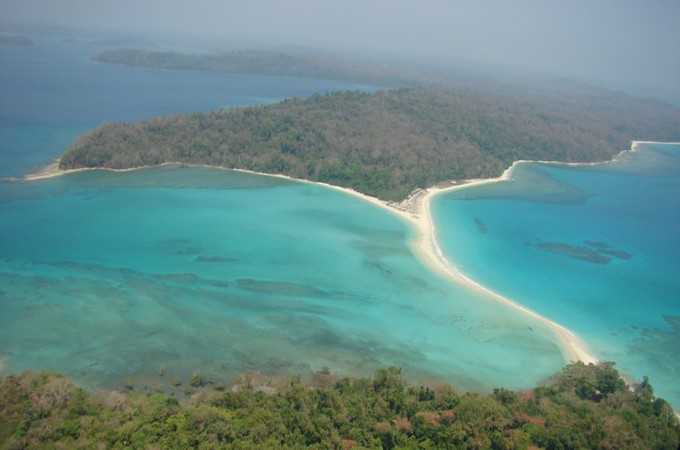 Sandbar Beach, Andaman & Nicobar Islands Overview
Sandbar Beach is basically a long stretch of sand that connects two islands, Ross and Smith in Andaman. The stunning scenery created by the densely forested islands and the stretch of white sand is quite unique to the location and draws several tourists to witness it charm. On a clear day when the waves are gentle, one can relax a bit on the Sandbar or go snorkelling and swimming on either side.
Time Required : 1 – 2 hours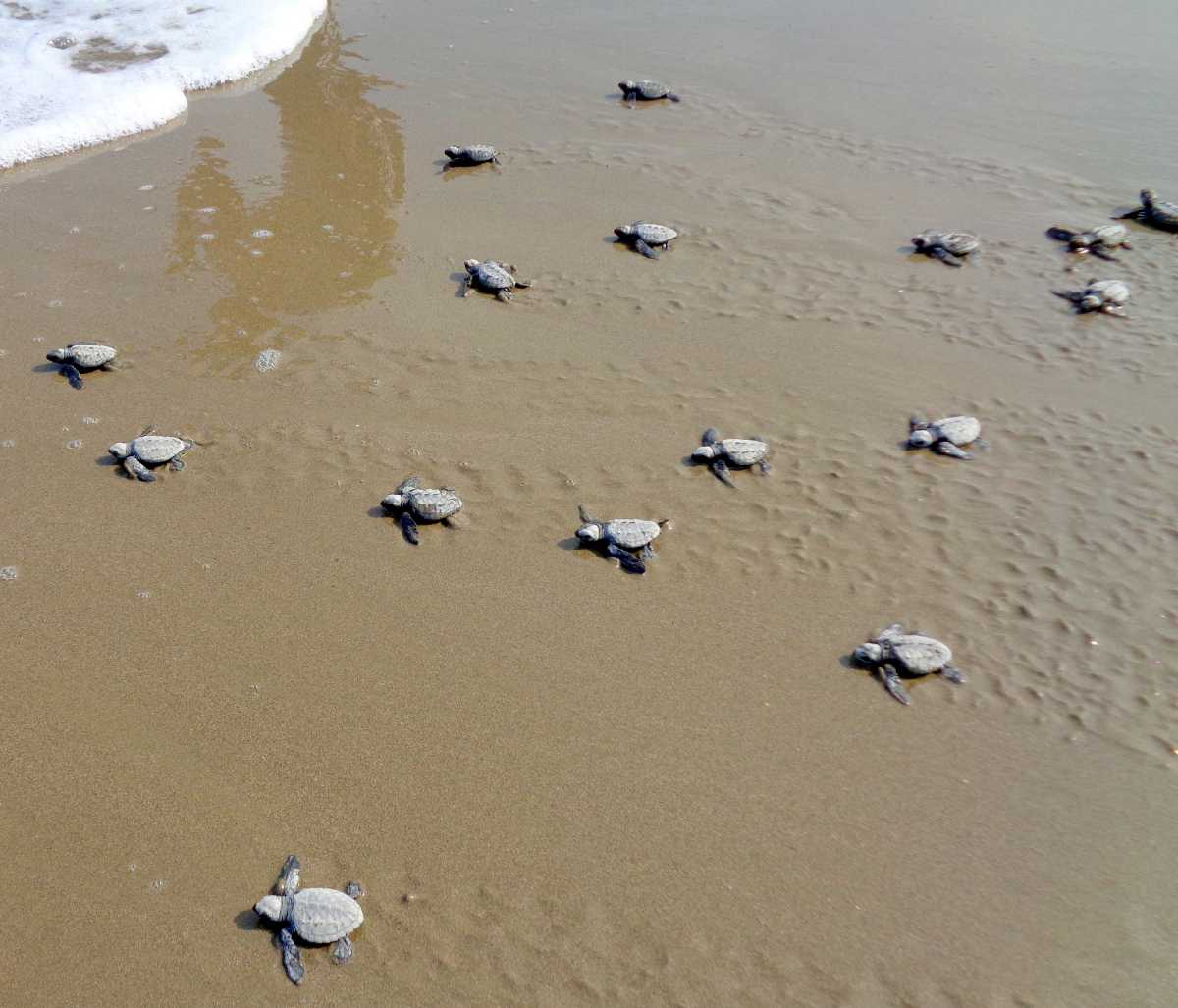 Diglipur, Andaman & Nicobar Islands Overview
Diglipur, a large island located in the North Andaman area, is an ecological paradise. The island houses rows of tropical forests, mangroves, and lovely beaches rich in exotic marine life. Kalipur Beach, Ross & Smith Islands, Ramnagar Beach, and Pathi Level Beach are all located in Diglipur, which makes it a favourite destination among tourists. The highest point of the Andaman and Nicobar Islands, Saddle peak, is located at this island, accessible through the Saddle Peak National Park. One can also find the Kalpon river here, the only river to flow through the Andamans. Diglipur is easily reachable from Port Blair; you can take a boat till Aerial Bay Jetty which is near Kalipur in Diglipur.
The Ross and Smith islands, a mysterious mud volcano, and the Saddle Peak National Park are all located within the confines of Diglipur. The Alfred Caves, an elaborate labyrinth of 42 caves spread across Diglipur can satisfy the desires of the adventurous who are willing to undertake the challenging task of exploring and trekking through these caves. For the tourists looking for a relaxing vacation, the shores of Diglipurs offer many wondrous beaches where one can get lost in the beauty of the sea all day long.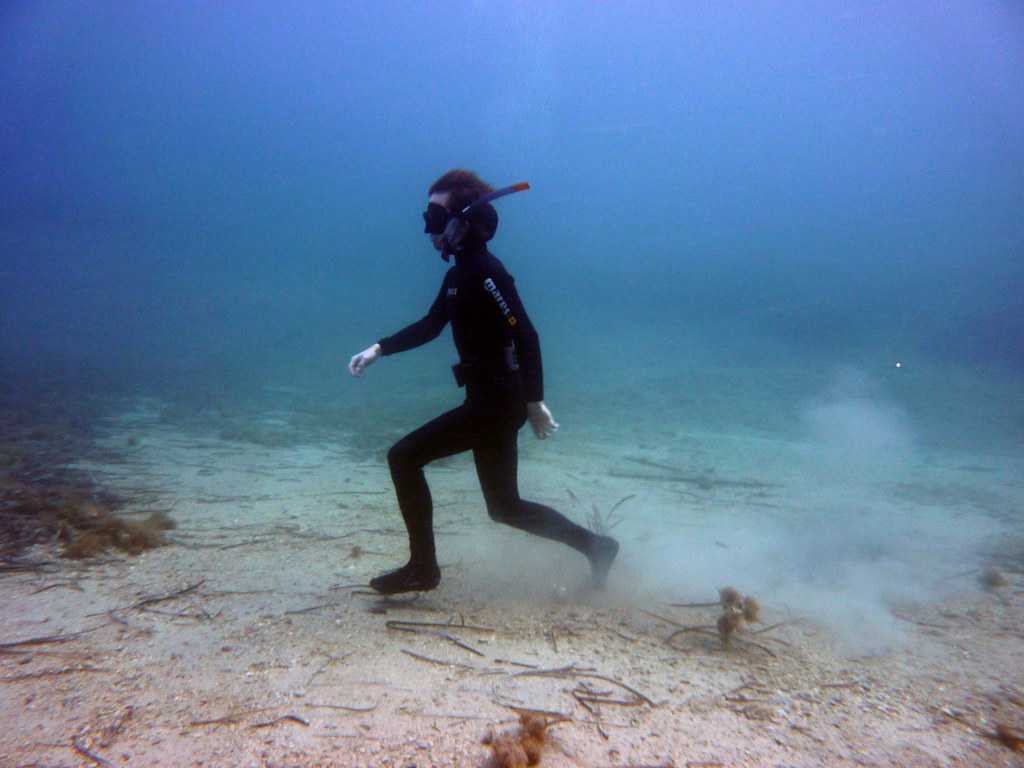 Sea Walking in Andaman, Andaman & Nicobar Islands Overview
An absolute joy for adventure lovers who wish to avoid diving and swimming constantly, sea walking is an excellent way to experience marine life in peace. The Andaman and Nicobar Islands offer multiple opportunities to go down to the sea bed, walk around and discover the unique geographical elements, coral reefs, fish and other aquatic life. Instructors prepare people with a short tutorial and accompany them throughout the sea walk's duration. Havelock Island, Ross Island and North Bay are ideal for sea walking.
North Bay's magnanimous fish, corals which are segregated into smaller dense concentrations and lobsters, make for a magnificent sea walking experience.
Havelock Island, especially Elephant Beach, is perfect for sea walking owing to the underwater volcanic formations, colorful corals and diverse fish. 
People can go sea walking in groups and have their pictures and videos taken amidst all the aquatic life. 
A unique experience that is part of sea walking is feeding the fish with bait provided by the vendors around. 
Price: : Approximately INR 4,000
Elephant Beach address: : SH4, Havelock Island, Port Blair, Andaman and Nicobar Islands 744211, India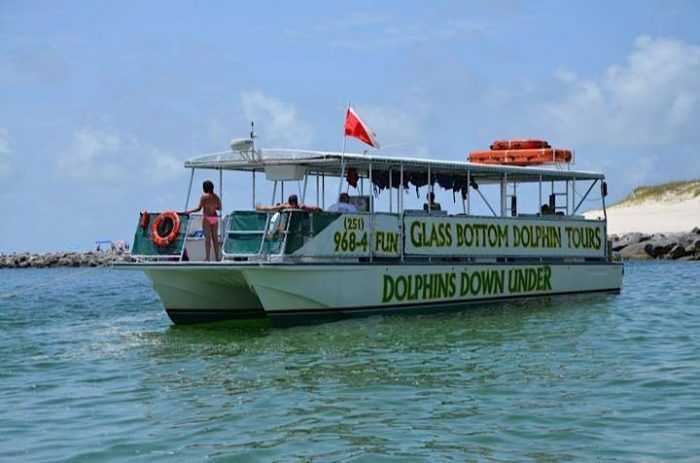 Glass Bottom Dolphin Boat, Andaman & Nicobar Islands Overview
A one-of-a-kind boat experience, a ride atop the Glass Bottom Dolphin Boat on North Bay Island is an excellent way to discover the island's diverse marine life and coral reefs without actually having to go underwater. The boat glides over the water and its bottom, made entirely out of glass, acts as a window into the underwater world, allowing passengers to be mesmerized by the rich aquatic life.
An international-quality speedboat, the Glass Bottom Dolphin Boat is the only one of its kind in India, with similar ones being found only in Australia.
Crew atop the boat are well educated on the subject of the area's marine life and engage in conversation with the passengers to share information. 
Suitable for adults and children alike, the ride provides an opportunity to discover various sea turtles, colourful fish and coral reefs.
Address: : Rajiv Gandhi Nagar, Port Blair, Andaman and Nicobar Islands 744101, India
Price: : Approximately INR 2,000
How to reach: : The ride begins from the Rajiv Gandhi Watersports Complex and requires boarding a 20-minute ferry to North Bay, where visitors can board the Glass Bottom Dolphin Boat.